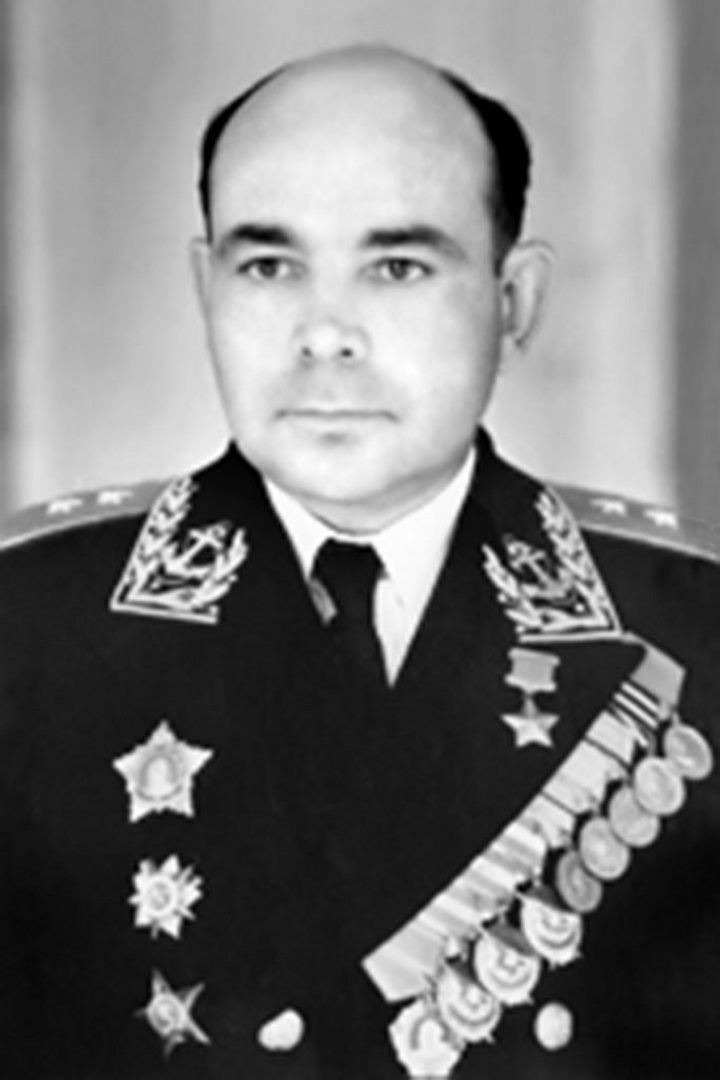 KANARYOV VIKTOR PAVLOVICH
Lieutenant General, Participant of World War II, The Hero of the Soviet Union (May 16, 1944)
Viktor Kanaryov was born on March 10, 1907 in Kokand. He finished the 9th grade of the school in 1925 and worked in the Fergana regional land administration.
In April 1927, Kanaryov was drafted into the Red Army. He served in World War II as Commander of the Air Force Fleet, Aviation Intelligence Regiment.
Under his leadership, the regiment took part in the defense of Odessa, Sevastopol, Novorossiysk. In addition, the regiment regularly conducted reconnaissance of German and Romanian ships over the Black Sea and attacked enemy naval depots. As a regimental commander, he made 57 combat sorties.
From August 1942, Guards Lieutenant Colonel Viktor Kanaryov was the commander of the 5th Guards Mine-Torpedo Air Regiment of the 1st Mine-Torpedo Air Division of the Black Sea Fleet. Under his command, the regiment performed many tasks, fought against enemy cargo ships, bombed the German naval bases and military installations in the Kerch Strait and Crimea in 1943, maintained air communication with the guerrillas in Crimea. By August 1943, V.P. Kanaryov himself has flown 74 combat flights on MBR-2 and Il-4 aircraft (61 of them at night). His regiment destroyed 8 vehicles, 1 submarine, 1 tanker, 8 barges and boats, and 24 enemy aircraft.
In 1944, Kanaryov graduated from the Naval Academy named after Voroshilov, an academic course for officers of the Air Force and Air Defense. Since April of this year, he has commanded the 2nd Guards Mine-Torpedo Air Division of the Air Force of the Black Sea Fleet. The division under his command took an active part in the offensive operations in Crimea and Yassko-Chisinau (in August 1944, it carried out a mass air strike on the main Romanian military base in Constanta). On November 5, 1944, Guards Colonel V.P.Kanaryov was promoted to major general of aviation.
The division took part in the battles for Crimea and the destruction of German ties between Crimea and Romania, making 401 sorties. 19 vehicles, 5 high-speed landing barges, 1 submarine, 1 patrol boat, 1 boat, 3 boats sank. 7 vehicles, 2 BDBs and 4 boats were damaged. 7 German planes were shot down. The division lost 15 Il-4s and a "Boston" in the fighting.
By the Decree of the Presidium of the Supreme Soviet of the USSR of October 30, 1943, "For exemplary performance of combat duties of the command in the fight against Nazi invaders on the front", Guards Lieutenant Colonel Viktor Kanaryov was awarded the "The Hero of the Soviet Union".
ORDER OF THE PATRIOTIC WAR,
ORDER OF THE Ushakov 1ST CLASS
MEDAL "FOR THE DEFENSE OF SEVASTOPOL»
MEDAL "FOR THE DEFENSE OF Kavkaz