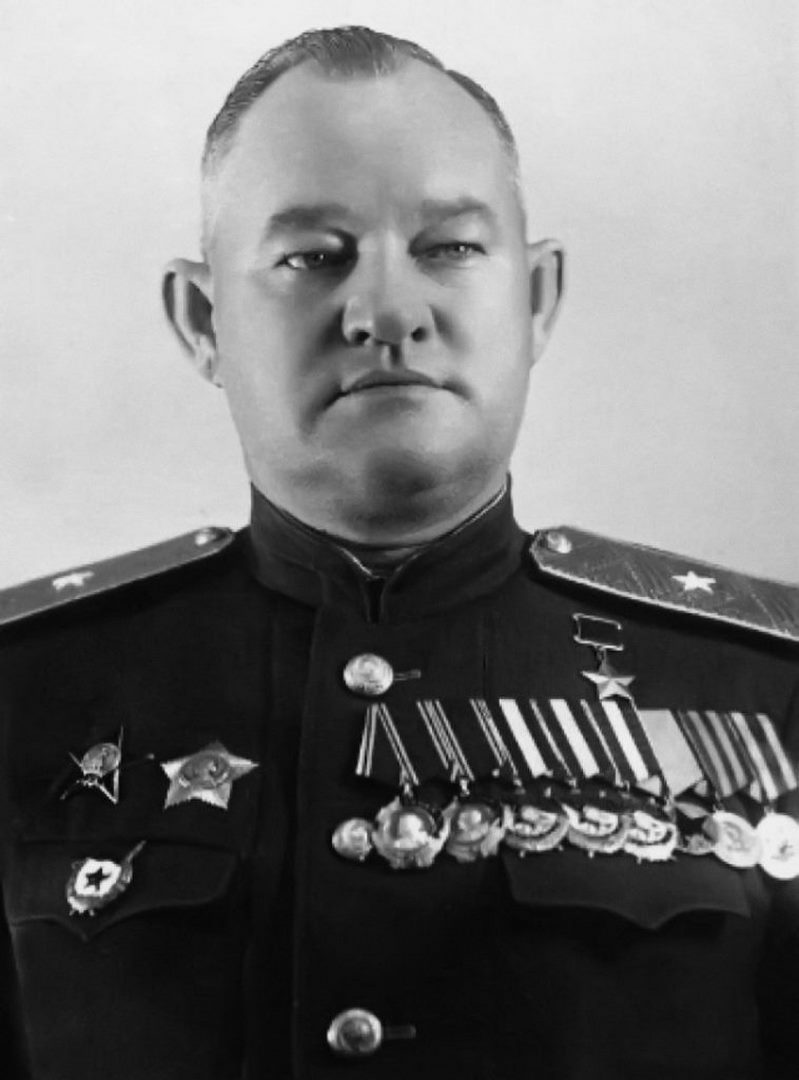 DRYOMIN DMITRIY FEOKTISTOVICH
Major General, participant in World War II, Hero of the Soviet Union (23.10.1943)
He was born on March 15, 1896, in the village of Kretovka, present-day Kurmanaevsky District, Orenburg Region, to a peasant family. He graduated from high school. In 1912, he and his parents moved to Biysk, now Altai Krai. He worked on the construction of the Altai railway.
In 1937 he graduated from the "Vistrel" Command in Moscow. From December 1937 he was a battalion commander in Tbilisi and from October 1938 he served in the 1st Krasnodar Infantry School.
In August 1941, Uryupinsky became deputy head of the infantry school.
On November 24, 1941 he was the commander of the 11th Rifle Brigade, which was on the defensive in Donbass. In April 1942, the 107th Infantry Division was formed in Tambov on the basis of this brigade and was appointed its commander. The division takes part in the Voronezh-Voroshilovgrad operation. On November 29, 1942, he was removed from the post of division commander for disobeying the order to destroy the enemy platsdarm between the Voronezh and Don rivers.
When he joined the Military Council of the Voronezh Front in December 1942, he was deputy commander of the 309th Cavalry Division. He was wounded in February 1943 and treated in a military hospital for a month. On March 2, 1943, he was appointed commander of the 309th Infantry Division.
On July 5, the division was thrown into the Kursk Basin in the Oboyan region to support the 1st Tank Army, and on July 9, it entered the southern stage of the Melovoe Dumliks – Malinovoe region. On July 12, the division launched a counterattack along the Oboyan-Belgorod highway.
On September 15, 1943, he was awarded the military rank of Major General. On September 13-18, the division will take part in the liberation of the towns of Lokvitsa and Piryatin, which is why the division was given the honorary title of "Piryatinskaya".
On September 22-24, the 309th Artillery Division was the first to reach the Dnieper, cross the river through the village of Baliko-Shuchinka (Kagarlik district, Kiev region) and take a firm position on the occupied platform.
By the Decree of the Presidium of the Supreme Soviet of the USSR of October 23, 1943, Major General Dryomin Dmitry Feoktistovich was awarded the title of Hero of the Soviet Union "For exemplary performance of combat duties, courage and heroism of the command in the fight against Nazi invaders on the front".
He was released in February 1951 due to illness. He lived and worked in Tashkent.
He died on December 12, 1953, and was buried in Botkina Cemetery.
GOLD STAR MEDAL OF THE HERO OF THE SOVIET UNION
THE ORDER OF "THE RED BANNER"
THE ORDER OF "SUVOROV" OF THE 1ST,2ND,3RD DEGREES