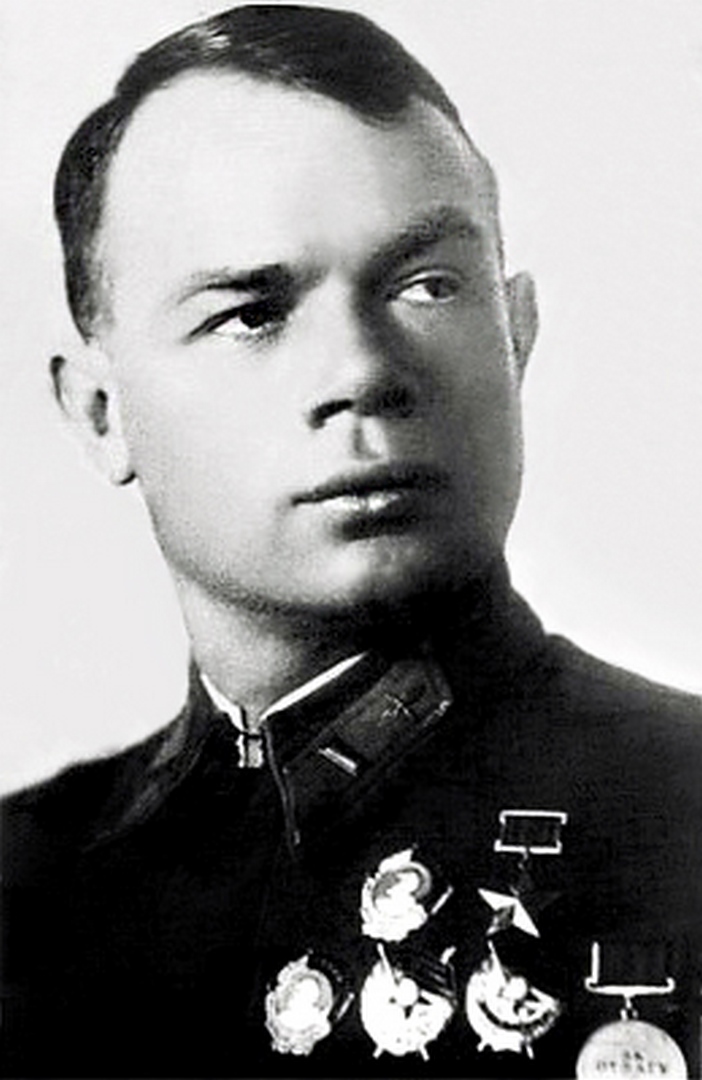 YEFREMOV VASILY VASILEVICH
 Captain, Participant of World War II, The Hero of the Soviet Union (May 5, 1942)
 Vasily Yefremov was born on March 1, 1914 in Orenburg. He lived in Osh as a child and then moved to Tashkent. He worked at the plant and completed two courses at the Tashkent University of Industrial Workers. In 1936, Yefremov was drafted into the Red Army. In 1938 he graduated from the Orenburg Military Aviation Pilot School. He participated in the Soviet-Finnish War, carried out 140 combat flights, shot down 7 Finnish planes according to his statement, identified and destroyed a large ammunition depot of the enemy. From June 1941 he served in World War II. He took part in the battles on the Kalinin front.
Until March 1942, Captain Vasily Yefremov was the Deputy of Squadron Commander of the 5th Guards Fighter Aviation Regiment of the Kalinin Front. In March 1942, five fighter jets led by Yefremov began the battle with a superior enemy. In that battle, Yefremov personally shot down two German planes.
By the Decree of the Presidium of the Supreme Soviet of the USSR of May 5, 1942, "For exemplary performance of combat duties, for his courage and heroism", Captain Vasily Yefremov was awarded the title of "The Hero of the Soviet Union".
In his combat career, Yefremov made a total of 401 combat flights, participated in 120 air battles and personally shot down 7 enemy aircraft. He died on October 28, 2002, and was buried in Vagankovsky Cemetery in Moscow.
GOLD STAR MEDAL OF THE HERO OF THE SOVIET UNION
THE ORDER OF "THE RED BANNER"
THE ORDER OF "THE PATRIOTIC WAR OF THE I DEGREE"
THE MEDAL OF "FOR COURAGE"
THE MEDAL OF "FOR COMBAT MERIT"
THE MEDAL OF "FOR THE VICTORY OVER GERMANY"
THE MEDAL OF "THE 20TH ANNIVERSARY OF VICTORY"
THE MEDAL OF "THE 30TH ANNIVERSARY OF VICTORY"
THE MEDAL OF "THE 40TH ANNIVERSARY OF VICTORY"
THE MEDAL OF "THE 50TH ANNIVERSARY OF THE VICTORY"​
THE MEDAL OF "FOR THE VICTORY OVER JAPAN"
THE MEDAL OF "THE 20TH ANNIVERSARY OF THE SU AF"​​
THE MEDAL OF "THE 30TH ANNIVERSARY OF THE SU AF"​​
THE MEDAL OF "THE 40TH ANNIVERSARY OF THE SU AF"​​
THE MEDAL OF "THE 50TH ANNIVERSARY OF THE SU AF"​​
THE MEDAL OF "THE 60TH ANNIVERSARY OF THE SU AF"​​
THE MEDAL OF "THE 70TH ANNIVERSARY OF THE SU AF"​​
«MOSKVANING 800 YILLIGI XOTIRASI UCHUN» MEDALI, 1147 - 1947