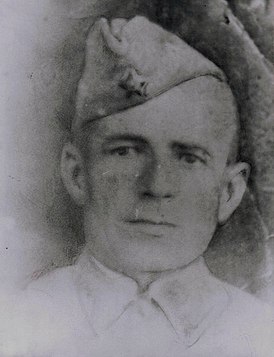 VASILYEV DMITRIY PAVLOVICH
  Captain of Guard, Participant of World War II, The Hero of Soviet Union (August 25, 1944)
           He was born on October 26, 1904 in the village of Obruchyovka (now Kizil district of Chelyabinsk region) in a peasant family. He finished the elementary school. He served in the Red Army from 1927 to 1932. After going on reserve, Vasilyev served as chairman of the Pakhtakor district council the Society for the Promotion of Defense, Aircraft and Chemical Construction in the Samarkand region.
          In 1941 he was again called up to the army. He had served on the front since December of that year.  He participated on the front of Bryansk, Voronezh, Western and 1st Ukrainian front.
          In early 1944, Vasilyev commanded a squadron of the 50th Guards Cavalry Regiment of the 13th Guards Cavalry Division of the 6th Guards Cavalry Corps of the 13th Army of the 1st Ukrainian Front. The Ukrainian SSR was active during the liberation of the Volyn region.
          On January 31, 1944, Vasilyev's squadron forced the enemy units to retreat in the battle for the village of Suman in the Kiversov district and managed to capture the bridge over the Suman River and the village. The German army used a method of counterattack, blocking the cavalry from the main forces. For 18 hours they had fought in a siege and repulsed 18 counterattacks of the enemy. In these battles, the squadron killed more than 400 enemy soldiers and officers, destroyed 5 vehicles loaded with ammunition and 4 bunkers. Although Vasilyev was wounded twice, he did not leave the battlefield. He continued to command his units and personally killed 50 German soldiers and officers. Vasilyev called on the warriors to attack and helped break through the enemy's encirclement. He was killed in this battle. He was buried in the Brotherhood Cemetery in the village of Kolka of Manevich district.
          By the Decree of the Presidium of the Supreme Soviet of the USSR of August 25, 1944, "For exemplary performance of command duties and bravery and heroism in the fight against Nazi invaders on the front", Captain Dmitriy Pavlovich Vasilyev was awarded the title of "The Hero of the Soviet Union"
GOLD STAR MEDAL OF THE HERO OF THE SOVIET UNION
THE ORDER OF "THE PATRIOTIC WAR OF THE I DEGREE"
THE ORDER OF "THE PATRIOTIC WAR OF THE II DEGREE"