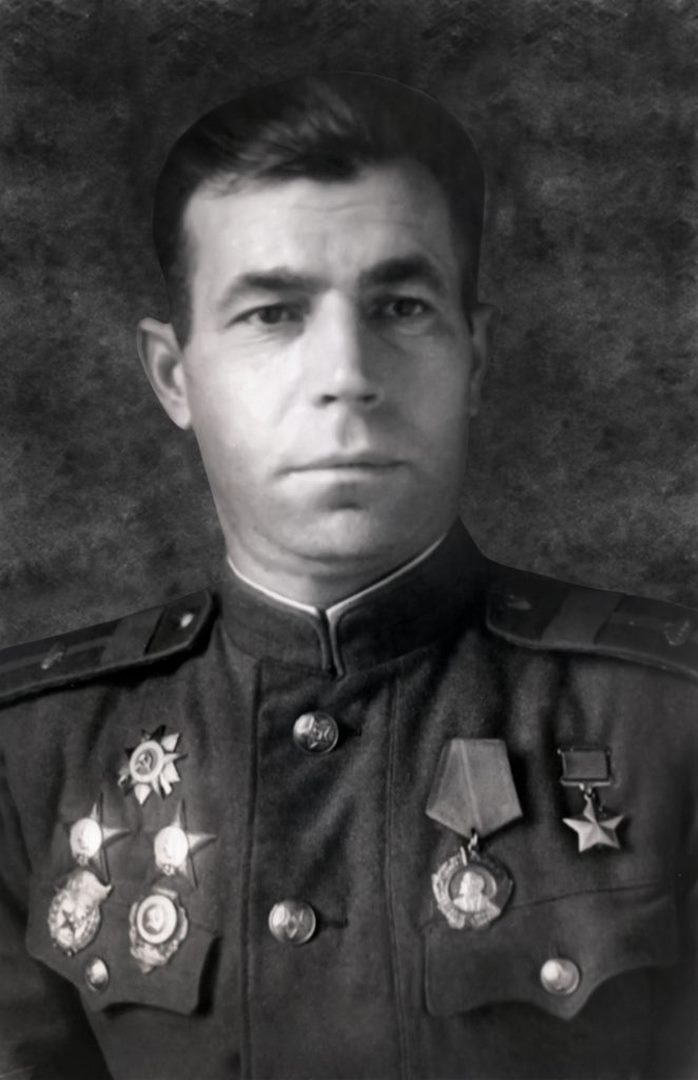 TRAYNIN PYOTR AFANASYEVICH
Petty Officer, Participant of World War II, The Hero of the Soviet Union (October 17, 1943)
He was born on June 18, 1909 in the village of Alexandrovka (now Talovsky district of Voronezh region) in a peasant family. He was Russian.
From 1926 to 1930, he worked as a tractor driver in the village of Alexandrovka. From 1931 to 1938, he worked as a tractor driver in the construction of the Kirov Canal (Uzbekistan) and as a tractor driver in the departments of the Galla-Aral grain farm in Samarkand region of Uzbekistan.
He had been in the Red Army since 1941. He had participated in World
War II since September 1941. At the age of 32, he went to the front as a BT-7 tank driver, then as a driver in a Valentine's tank.
The main military route for Pyotr Afanasyevich began in November 1941 in the 27th Armored Division near Solnechnogorsk, during the Battle of Moscow. He took part in the Battle of Kursk and the liberation of Prague as part of a tank brigade.
Pyotr Afanasyevich, who was seriously wounded in 1942, continued his combat journey in a T-34 tank after being treated in hospital.
On October 3, 1943, Pyotr Trainin was the first in a T-34 tank from a minefield bridge over the Dnieper in the battle for the Ukrainian village of Strakholesie, Chernobyl district, Kiev region, and fired three anti-tank guns, four mortars and crushed five enemy firing points. He took part in the battles in Berlin and Prague.
On the night of October 5, in a fierce battle, he was the only survivor of the crew, but he continued the battle and repulsed the enemy's counterattack.
By the Decree of the Presidium of the Supreme Soviet of the USSR of October 17, 1943, "For his heroism and courage in the fight against the Nazi invaders", Petty Officer Traynin Pyotr Afanasyevich was awarded the title of "The Hero of the Soviet Union".
He died on August 9, 1978 and was buried in the Central cemetery in Belgorod.
GOLD STAR MEDAL OF THE HERO OF THE SOVIET UNION
THE ORDER OF "THE PATRIOTIC WAR OF THE I DEGREE"
Medal "For the Victory over Germany in the Great Patriotic War of 1941-1945."
THE MEDAL OF "FOR THE LIBERATION OF PRAGUE"