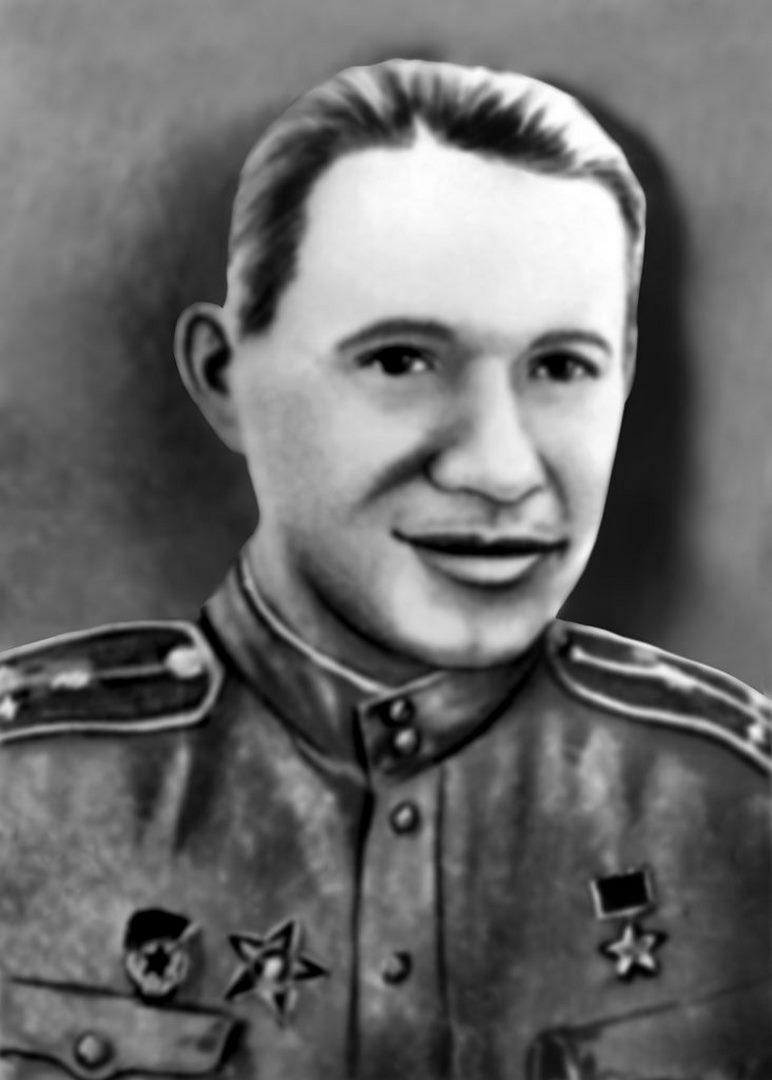 SIMANOV ALEXANDR MIKHAYLOVICH
Lieutenant of the Guard, Participant of World War II, The Hero of the Soviet Union (January 15, 1944)
He was born on November 1, 1918 in the village of Uspenskoye (now Mokshansky district of Penza region) in a working-class family. He was Russian. He finished the 7th grade of school.
He was drafted into the Red Army in 1940 by the military commissariat of the Turtkul district of the Karakalpak Autonomous Soviet Socialist Republic. From July 1941 he served in World War II.
On September 24, 1943, the commander of the machine-gun platoon of the 60th Guards Cavalry Regiment, Lieutenant of the Guard Simanov, with the help of handmade equipments, was one of the first to cross the Dnieper River near the village of Nivki in the Bragin district of Belarus' Gomel region and began to fight on the right bank, securing the location of regimental units. On September 28, 1943, he liberated the village of Vyale in the Bragin district and developed an attack by the 60th Guards Cavalry Regiment on the village of Galki.
However, the hill between these two settlements was occupied by the Nazis, they regularly fired from that hill with machine-gun, and from the village of Galiki with artillery fire.
It was useless and impossible to continue the attack without gaining that hill. There Senior Lieutenant of the 4th Squadron Guard P.I. Karsev attacked, but was killed in the attack. The squadron was commanded by Lieutenant of the Guard Simanov, who decided to go around the hill and stroke from behind.
The cavalrymen run through the woods and detected a small gap in the enemy's combat order, crawled among the tall horses with machine guns and approached the hill. He chose his position and fired at the enemy. The altitude was successfully achieved and the path was opened for the 4th Cavalry Squadron to the village of Galki.
By the Decree of the Presidium of the Supreme Soviet of the USSR of January 15, 1944, "For exemplary performance of combat duties, courage and heroism in the fight against Nazi invaders on the front", Lieutenant Simanov Alexandr was awarded the title of "The Hero of the Soviet Union".
After the war Captain Simanov went on reserve. He lived in Penza and was a master at the Diesel Plant.
He died on December 23, 1977. He was buried in the New West Cemetery in Penza.
The name of A.M. Simanov is inscribed in gold letters on the monument in the National Museum of the Republic of Bashkortostan and the Museum of the 112th Bashkir Cavalry Division, along with the names of 78 Heroes of the 112th Bashkir Cavalry Division of the Soviet Union.
GOLD STAR MEDAL OF THE HERO OF THE SOVIET UNION
THE ORDER OF "THE RED BANNER"
THE ORDER OF "THE PATRIOTIC WAR OF THE I DEGREE"