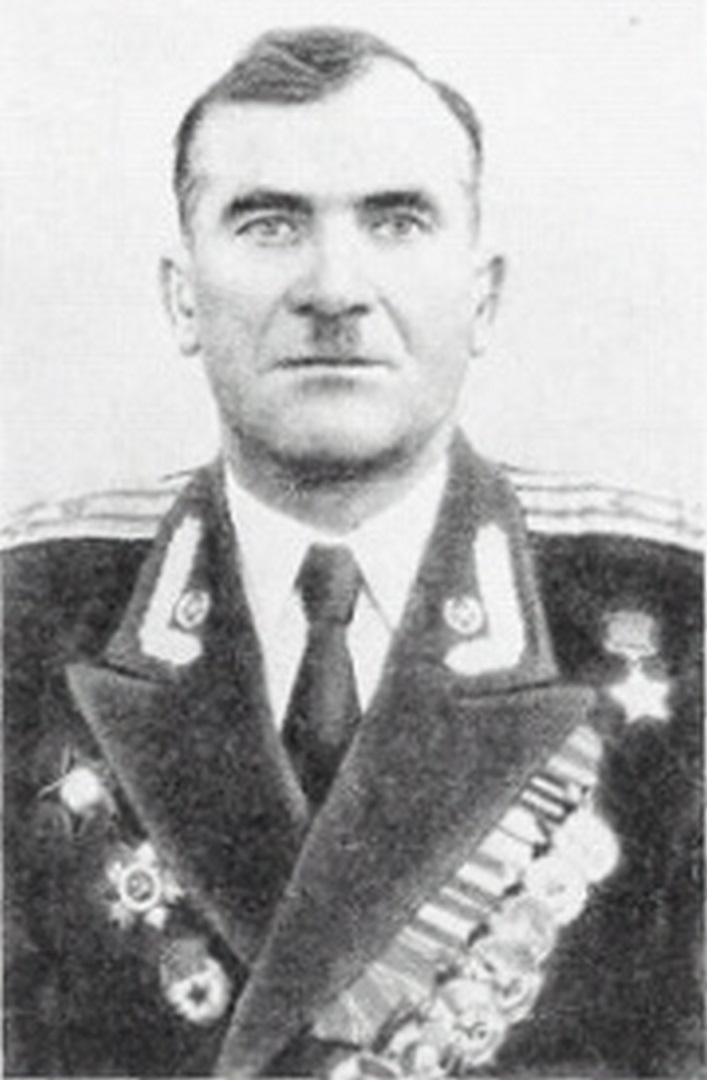 RUDAKOV NIKOLAY YAKOVLEVICH
major, a participant in World War II Hero of the Soviet Union (1943)
   He was born on October 23, 1906 in Kokand. He graduated from the 4th grade of the school. In 1928 he was drafted into the Red Army. In 1931 he completed the Kiev Joint Command Course and in 1941 the Vistrel Course. He has been involved in battles since the outbreak of World War II. Until September 1943, the 40th Army of the Voronezh Front commanded the 202nd Guards Rifle Regiment of the 68th Guards Rifle Division. He fought valiantly in the Battle of the Dnieper.
   On the night of September 22-23, 1943, the regiment crossed the Bukrinsky Platsdarm on the Dnieper River. The enemy carries out several violent counterattacks with great force, but the regiment successfully repulses them all and inflicts heavy losses on the enemy troops. Rudakov was personally at the front of the regiment, commanding the units, remaining wounded for three days and continuing to fight in critical condition.
   By the Decree of the Presidium of the Supreme Soviet of the USSR of October 23, 1943, Guards Major Nikolai Rudakov was awarded the title of Hero of the Soviet Union "For his courage and heroism in crossing the Dnieper River, capturing the platsdarm on the right bank and holding it,".
   After the war he continued his service in the Soviet Army. In 1945 he graduated from the Military Academy named after M.V.Frunze, in 1947 from the teacher's course. In 1947, he commanded a cadet battalion at the Baku Infantry School.
   In 1952, Rudakov was released from the reserve with the rank of colonel. He lived and worked in Kalinin and was active in public affairs.
   He died on August 29, 1977, and was buried in the Dmitrov-Cherkassky Cemetery in Tver.
ORDER OF THE PATRIOTIC WAR, 1ST CLASS