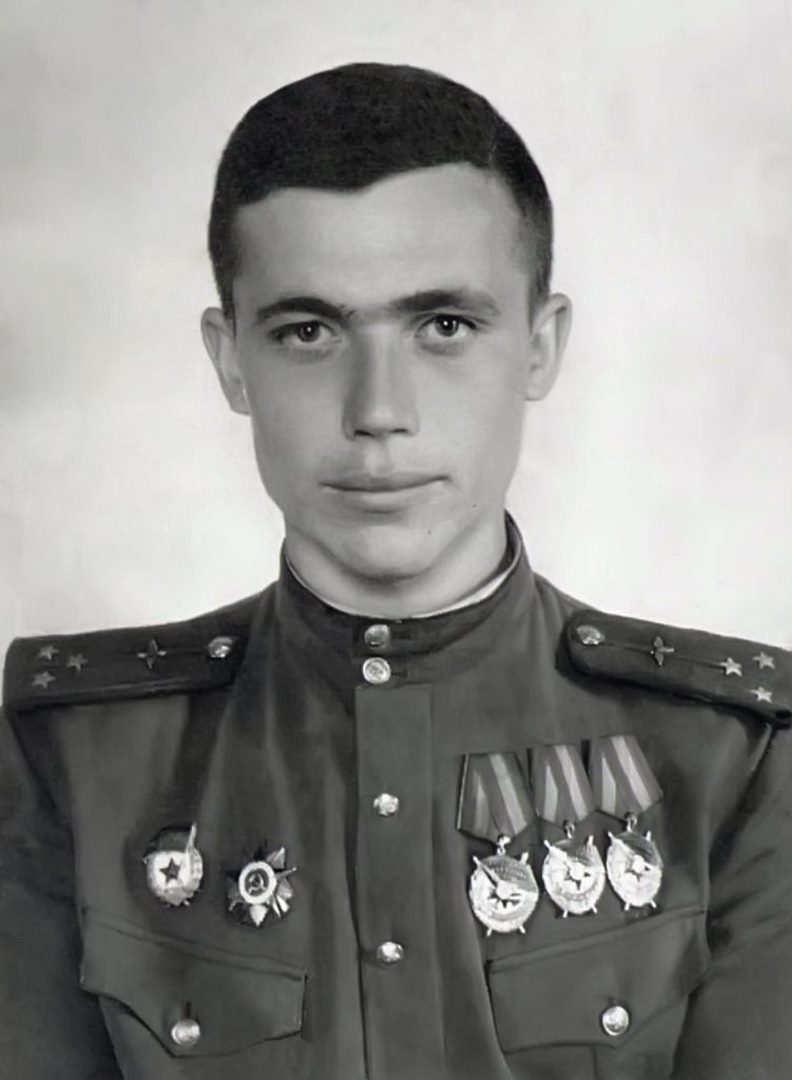 PUCHKOV GERMAN IVANOVICH
Senior Lieutenant of the Guard, Participant of World War II, The Hero of the Soviet Union (May 15, 1946)
   He was born on October 19, 1923 in Slavyansk, Donetsk region, in a working-class family. He was Ukraine. He had a secondary education. In 1940 he was drafted into the army by the military commissariat of Marhamat district of Andijan region. After graduating from the Voroshilovgrad Military Aviation School in 1942, he was evacuated to Uralsk (now the Republic of Kazakhstan). He had been in World War II since August 1942.
   He fought on the North-West, the 2nd Baltic, the 2nd and the 1st Belorussian Fronts. He fought on the Il-2 assault aircraft as part of the 74th Assault Aviation Regiment of the 243rd Assault Aviation Division. He participated in Operation Lublin-Brest (from July 18 to August 2, 1944) as part of the 6th Belarusian Strategic Operation Bagration on the 1st Belorussian Front. He was involved in the 16th Air Force; during the Berlin Strategic Offensive Operation (from April 16 to May 8, 1945); in the East Pomerania Strategic Offensive Operation (from February 10 to April 4, 1945); the Warsaw-Poznan offensive as part of the Visco-Oder Strategic Operation.
   By the end of the war, he had flown 102 sorties and destroyed 8 tanks, 46 trucks, 2 buses, 30 field and anti-aircraft artillery weapons, 8 mortars, 20 carts, 1 petrol cistern, almost 20 railway cars, and killed almost 200 enemy soldiers and officers. He destroyed 12 aircraft at enemy airfield, and shot down 3 enemy aircraft in 25 air battles.
   By the Decree of the Presidium of the Supreme Soviet of the USSR of May 15, 1946, "For exemplary performance of combat duties, courage and heroism in the fight against Nazi invaders on the front", Senior Lieutenant Puchkov German was awarded the title of "The Hero of the Soviet Union.
   He lived and worked in Pinsk, Brest Region (Belarus). He died on July 9, 1981.
ORDER OF THE PATRIOTIC WAR, 1ST CLASS
MEDAL FOR MILITARY MERITS
medal "For the Victory over Germany in the second world war 1941-1945"
Medal " 20 years of Victory in the great Patriotic war of 1941-1945»
Medal " 30 years of Victory in the great Patriotic war of 1941-1945»
MEDAL FOR THE CAPTURE OF BERLINI
Medal "50 years of The armed Forces of the USSR»