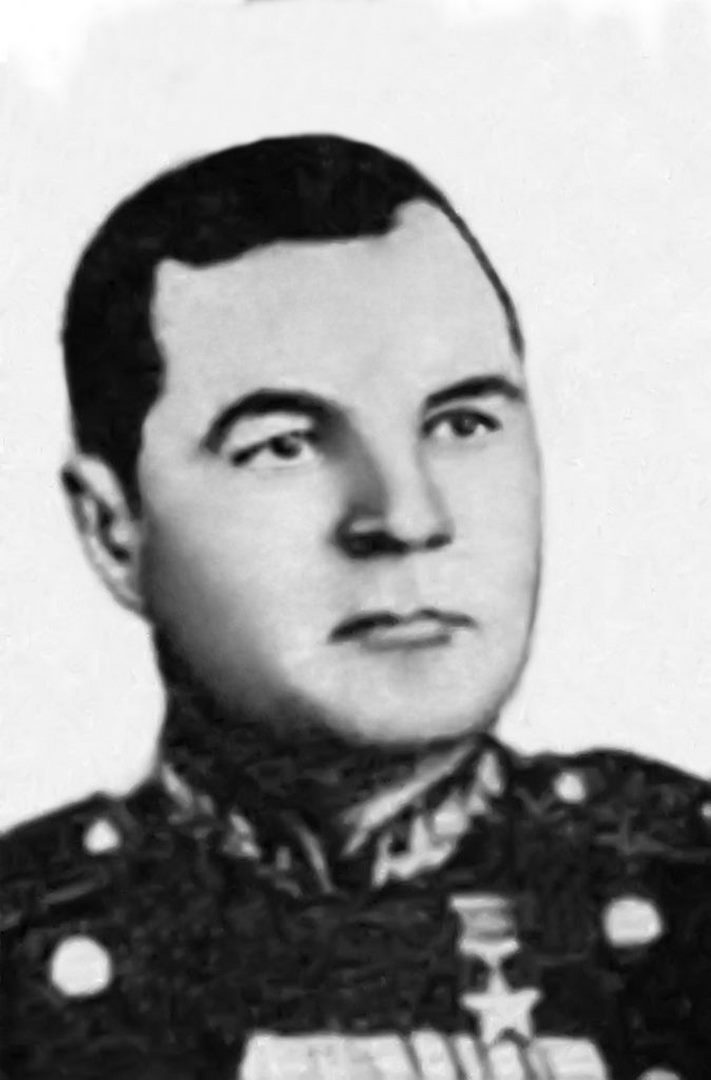 PAVLUSHKO ARKADIY TIMOFEYEVICH
Colonel, Participant of World War II, The Hero of the Soviet Union (April 6, 1945)
   He was born on June 11, 1900 in Samarkand, Samarkand region, in a working-class family in the Turkestan province. He studied and worked in Samarkand and Urgench. From June 1918, he served in the Red Army. He took part in the civil war on the Turkestan front, as well as in the battles against the Basmachis in Central Asia.
   In 1923 he graduated from the infantry command courses, in 1925 from the Kiev United School, in 1927 from the military-political courses, and in 1932 from the Leningrad Armored Forces Command Training Course.
   From February 1942, he served in World War II. From 1943 to 1944 he served as Deputy Commander of the 36th Tank Brigade (11th Tank Corps). He was wounded twice in 1943.
   In July 1943, he took part in the Orlov offensive operation as part of the 4th Tank Army. The corps was then sent to the south and took part in an offensive operation in Donbass from August to October. In this operation, he personally led the tankers' attacks on the crossing of the Kalmias River and during the battle for the station of Gulyaypole (Zaporozhye region).
   From July 1944, he commanded the 65th Tank Brigade (11th Tank Corps). He took an active part in Belarus offensive operation.
   He proved his heroism and courage in Operation of Vistula-Oder. On January 14, 1945, the brigade succeeded in turning the Pilitsa River and covered 450 kilometers in the next three weeks. On January 19, 1945, the brigade captured the city of Luben (now Luben Kujavski, Poland), resulting in the capture of 60 enemy aircraft at a military airfield near the city. On January 21, he, along with other brigades of the corps, liberated the towns of Radzejuv and Inovrotslav. On February 1, 1945, the brigade crossed the Oder and captured an enemy crossing part near the town of Chernikau, and the next day (now Pile, Poland) the fortified city of Schneidemyl was besieged.
   By the Decree of the Presidium of the Supreme Soviet of the USSR of April 6, 1945, "For exemplary performance of combat duties, courage and heroism in the fight against Nazi invaders on the front", Colonel Pavlushko Arkadiy was awarded the title of "The Hero of the Soviet Union".
   In 1954, Major General Arkady Timofeyevich Pavlushko went on reserve. He lived in Leningrad and died on May 8, 1966.
ORDER OF THE PATRIOTIC WAR, 1ST CLASS
MEDAL FOR THE CAPTURE OF BERLIN​
medal "For the Victory over Germany in the second world war 1941-1945"
MEDAL FOR THE CAPTURE OF BERLIN
MEDAL FOR THE LIBERATION OF WARSAW