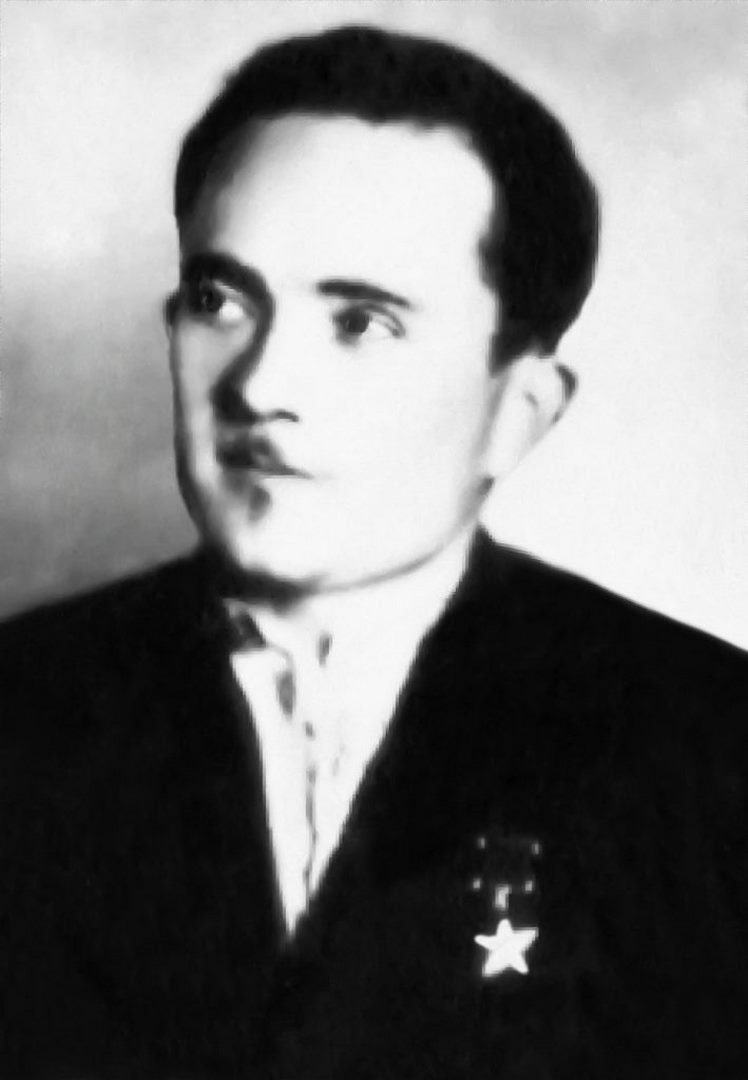 MATS GRIGORY ZELMANOVICH
guard senior lieutenant, participant of the Second World War, Hero of the Soviet Union (May 17, 1944).
   He was born on January 2, 1920, in the village of Pereshchepino (now Novomoskovsky District, Dnepropetrovsk Oblast, Ukraine) to a devout Jewish family. Nationality – Jewish. He graduated from the Thermomechanical College of Meat and Dairy Industry in Poltava. He worked in Uzbekistan.
   In 1940 he was drafted into the Red Army. In 1942 he graduated from the Rostov Artillery School. From 1942 he served in World War II. He fought on the Northwest, Southwest, North, and 2nd Ukrainian Fronts. He took part in the liberation of Kursk, Aktirku, Poltava, Kremenchug. He took part in the battle across the Dnieper.
   In late November 1943, the command received information that it was preparing to invade the Germans from the territory of the Ukrainian city of Cherkasy. In one of the most dangerous offensive lines of the tanks, on the command of the commander, the guard takes the position of senior lieutenant G.Z. Matz's battery. On the afternoon of December 1, 1943, the Germans launched their first attack. As the tanks approached 200 meters, the battery fired at the enemy with intense aim. The enemy retreats, leaving six destroyed Tigers and three armored vehicles on the battlefield.
   The Hitlerite command dropped 38 tanks and more than a dozen armored vehicles with infantry on the second attack. An unequal battle of forces begins. Hundreds of shells and bullets are fired at the battery. But the artillerymen stood with sabotage and destroyed 8 tanks and armored vehicles of the enemy.
   But there is a lot of battery loss. The commander is seriously wounded, but continues to fire at enemy tanks with the remaining cannon and weapons. Six more tanks will be destroyed by the fire, and three armored vehicles will be shot down. The battery commander dies of another injury. Heavy fighting would be a disaster for the warriors.
   But the brave artillery officer survives. He is wounded and taken prisoner by the enemy. The Red Army was advancing west. In July 1944, Lublin and Majdanek were released. The half-alive G.Z. Matts was one of the lucky ones who failed to destroy the Germans as they retreated.
   By the Decree of the Presidium of the Supreme Soviet of the USSR of May 17, 1944, Guards Lieutenant Grigory Zelmanovich Mats was awarded the title of Hero of the Soviet Union "For exemplary performance, courage and heroism in the fight against Nazi invaders on the front."
   He died on October 11, 1977. He is buried in Cemetery No.2 in Kharkov.
ORDER OF THE PATRIOTIC WAR, 1ST CLASS