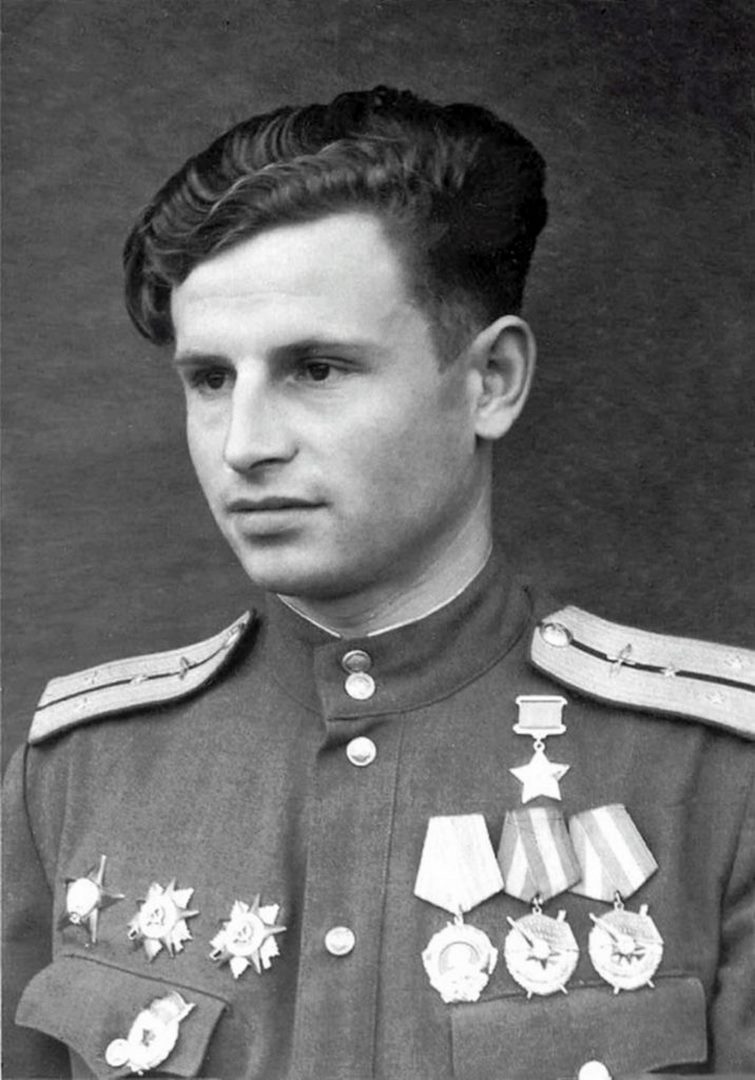 KULICHEV IVAN ANDREYEVICH
Senior Lieutenant of Guards, Participant of World War II, The Hero of the Soviet Union
(October 26, 1944)
He was born on August 29, 1920 in Yukori Baskunchak station (now an urban-type settlement of Akhtuba district of Astrakhan region) in a working-class family.
When he was a child, he lived in the city of Uralsk of Kazakhstan. There he worked as an accountant after graduating from labor school. In 1943 he graduated from the Perm Military Aviation Pilot School.
In 1940 he was drafted into the Red Army by the Tashkent Military Commissariat. During World War II, he was a unit commander of the 155th Guards Assault Air Regiment (the 9th Guards Assault Aviation Division of the 1st Guards Assault Aviation Corps of the 5th Air Force of the 2nd Ukrainian Front).
By the end of June 1944, it had made 176 combat sorties, destroyed 8 tanks, 38 vehicles, 5 railroad cars, destroyed 3 zenith batteries, and shot down two enemy aircraft.
By the Decree of the Presidium of the Supreme Soviet of the USSR of October 26, 1944, "For exemplary performance of combat duties, courage and heroism in the fight against Nazi invaders on the front", Senior Lieutenant Kulichev Ivan was awarded the title of "The Hero of the Soviet Union".
He died on August 28, 1979. He was buried in Kunsevo Cemetery in Moscow.
ORDER OF ALEXANDER NEVSKY
ORDER OF THE PATRIOTIC WAR, 1ST CLASS
ORDER "FOR HIS SERVICE TO THE MOTHERLAND IN THE ARMED FORCES OF THE USSR OF THE 1ST DEGREE"
medal "For the Victory over Germany in the second world war 1941-1945"
Medal " 30 years of Victory in the great Patriotic war of 1941-1945»
MEDAL" FOR THE CONQUEST OF BERLIN"
MEDAL" FOR THE LIBERATION OF PRAGUE"
MEDAL "VETERAN OF THE ARMED FORCES OF THE USSR"​
MEDAL "FOR STRENGTHENING THE COMBAT COMMONWEALTH"
ANNIVERSARY MEDAL " 40TH ANNIVERSARY OF THE VICTORY OF THE GREAT PATRIOTIC WAR 1941-1945
MEDAL "50 YEARS OF THE ARMED FORCES OF THE USSR"
MEDAL "60 YEARS OF THE ARMED FORCES OF THE USSR"