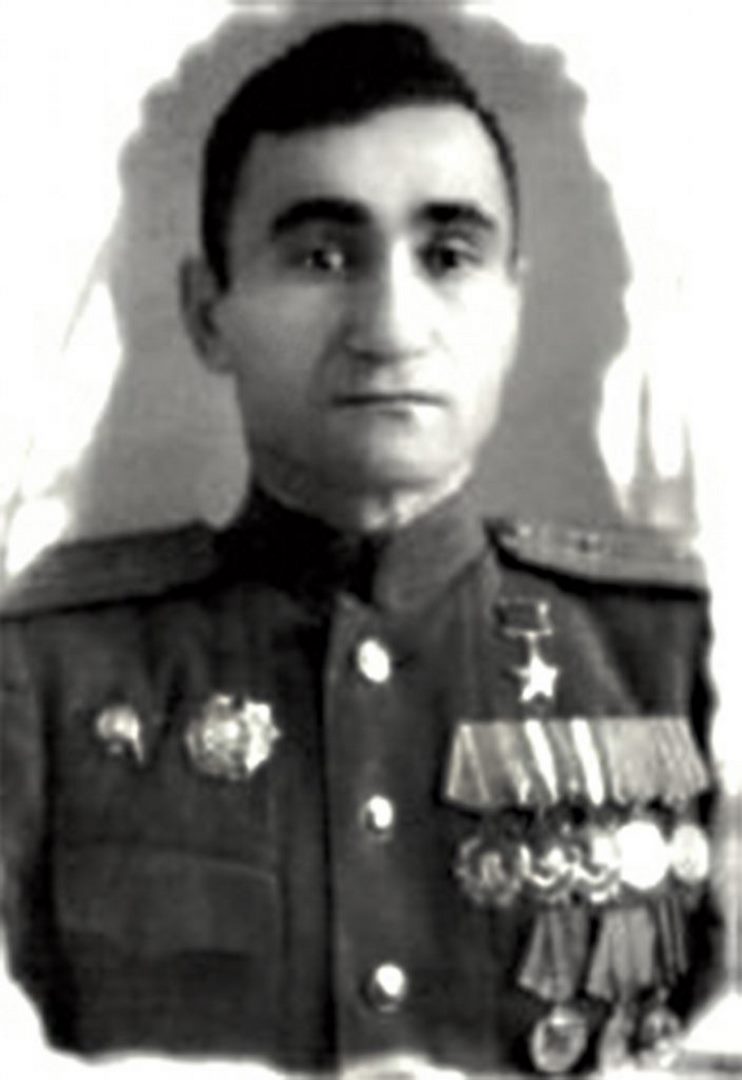 AYRIYEV ARMEN TEVANOVICH
 Major, Participant of World War II, The Hero of the Soviet Union (April 13, 1944)
He was born on September 20, 1910, in the village of Tug in the Gadrut district (now the Khojavand region of Azerbaijan) in a family of Armenian peasant. He spent most of his life in Uzbekistan, working as a plumber at the Dehkan plant at the end of the second stage of the Faculty of Samarkand Workers.
He had been in the Red Army since 1931. In the Army, he graduated from Junior Aviation School and Engel's School of Military Aviation Pilots.
From the early days of World War II, he was at the front and served as a squadron commander of the 503rd Air Assault Regiment (the 7th Air Corps of the 8th Air Force of the Southern Front, the 206th Attack Aviation Division). In October 1943, Captain Ayriyev flew 105 times to attack enemy airfields, crossings, manpower and equipment depots. His squadron successfully flew 324 times, and the enemy suffered heavy casualties. The squadron commander was active in destroying enemy groups in Taganrog and liberating Donbass.
By the Decree of the Presidium of the Supreme Soviet of the USSR of April 13, 1944, "For exemplary performance of the command's combat missions in the fight against the Nazi invaders, as well as for courage and heroism" Major Ayriyev Armen Tevanovich was awarded the title of "The Hero of the Soviet Union".
After the war, A.T.Ayriev continued his service in the USSR Air Force. In 1947 he completed advanced training courses for Air Force officers. Major A.Ayriyev had been in reserve since 1951. He lived in Tashkent and worked in the Tashkent city executive committee.
He died on February 13, 1966 in Tashkent, the capital of the Uzbek SSR. He was buried in Tashkent.
THE ORDER OF "ALEXANDR NEVSKIY"
THE MEDAL OF "FOR COMBAT MERIT"
THE MEDAL OF "FOR THE DEFENSE OF MOSCOW"
THE MEDAL OF "FOR THE DEFENSE OF STALINGRAD"
THE MEDAL OF "FOR THE VICTORY OVER GERMANY"