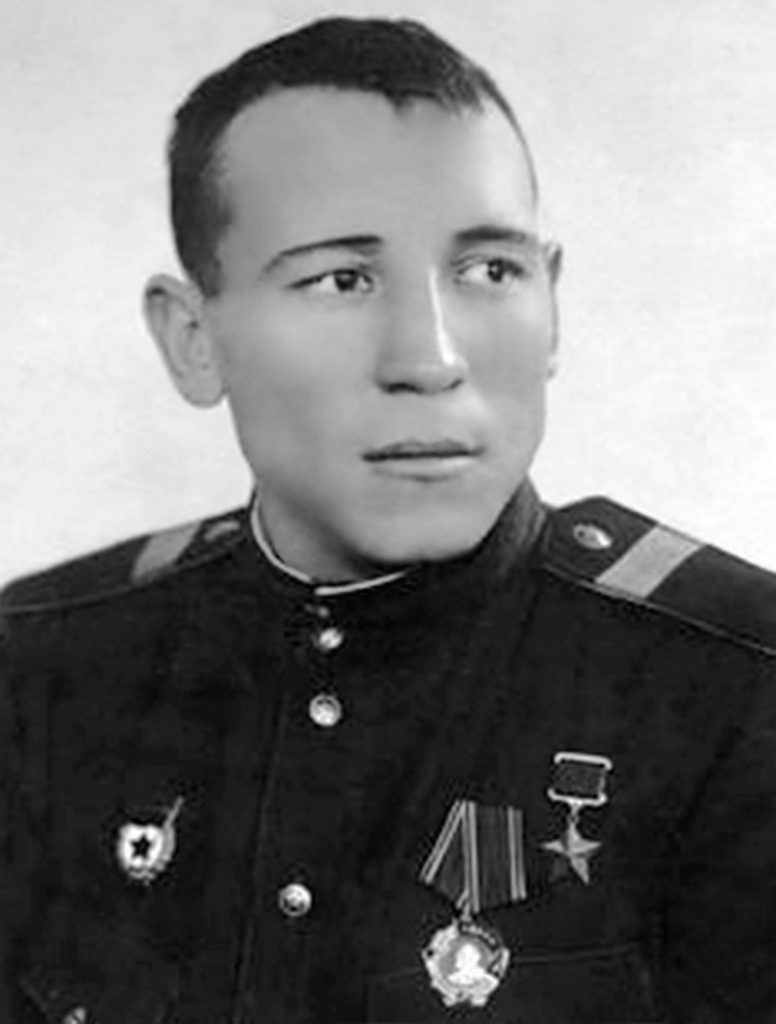 ABDULLIN  MANSUR IDIATOVICH

 Senior Sergeant of Guard, Participant of the World War II, The Hero of the Soviet Union (August 7, 1943) 
He was born on September 15, 1919 in the village of Kyrgyz-Miyaki of Sterlitamak district (now Miyakinsk district of the Republic of Bashkortostan) of Belebeyev region of Ufa province, in a family of Tatar peasant.
In 1927 he was admitted to the Kyrgyz-Miyakinsk high school, then worked on a local collective farm. In 1937, he moved to the Uzbek SSR, and worked as a teacher in the "Arkabesh" workers' artel in Leninsk (now Asaka, Andijan region, Uzbekistan) in order to fight illiteracy.
In August 1938 he was drafted into the Red Army by the Department of Defense of the Leninsky district of Fergana region.
During the war, he destroyed 8 enemy tanks as the artillery commander of the 167th Guards Light Artillery Regiment (3rd Guards Light Artillery Brigade of 1st Guards Rifle Artillery Division of 70th Army of the Central Front) in the Battle of Kursk.
He had been a participant of World War II since 1941. He was wounded in the autumn of 1941 and sent for treatment, and in July 1942 he recovered and returned to the frontline. He took part in the battles on the Western, Central, 2nd Belorussian and 1st Belorussian fronts, as well as in the battles of Smolensk, Stalingrad and Kursk.
On July 10, 1943, in the village of Molotichi (Fatej district of Kursk region), the artillery commander of the 167th Guards Light Artillery Regiment, Senior Sergeant Abdullin, fought valiantly to repel the enemy attack. His firing position was attacked three times by German infantry with the help of 60 tanks, 150 aerial bombs were dropped, and several hundred shells and mines were fired. During the fierce battle, Abdullin destroyed 8 tanks, including 3 "Tigers", and an enemy infantry battalion. During the battle, Mansur was seriously injured by shell fragments.
By the Decree of the Presidium of the Supreme Soviet of the USSR of August 7, 1943, "For exemplary performance of the command's combat missions in the fight against Nazi invaders, as well as for courage and heroism" Senior Sergeant Mansur Idiatovich Abdullin was awarded the title of "The Hero of the Soviet Union".
Abdullin left the Army as a lieutenant in October 1944 after treatment and returned to Bashkortostan. From 1944 to 1945, he studied at the party school of the Bashkir regional committee. In 1949 he graduated from the Bashkir Pedagogical Institute named after K.T.Timiryazev. After that, he worked as the director of the 1st secondary school in the village of Sterlibashevo, and from 1956 he became the head of the public education department of Sterlibashevsk district. Abdullin later moved to Ufa, where in 1962 he worked as the principal of Secondary School
№ 109, and in 1976 as the director of Boarding School № 2.
Mansur Idiatovich Abdullin died on June 8, 1996 and was buried in the Southern Cemetery in Ufa.
GOLD STAR MEDAL OF THE HERO OF THE SOVIET UNION
THE MEDAL OF "FOR DEFENSEOF STALINGRAD
THE ORDER OF "THE PATRIOTIC WAR OF THE I DEGREE"