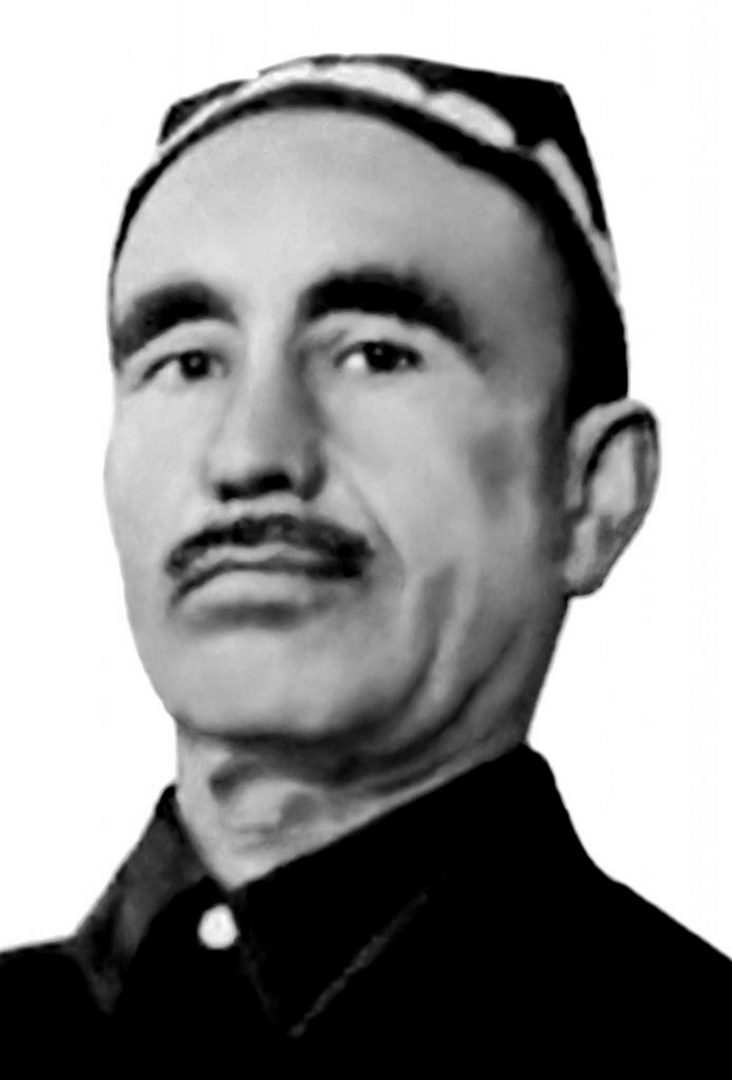 NIYOZOV (NIYAZOV) SAID
sergeant, a participant in World War II Full cavalier of the Order of Glory (31.05.1945)
Born on November 22, 1922 in the Matmon village of the Bukhara People's Soviet Republic, now part of the Kitab district of the Kashkadarya region. Tajik. From a peasant family. Graduated from 9 classes.
He worked as a primary school teacher in his native village. In May 1941, he was drafted into the Red Army by the Kitab district military enlistment office of the Bukhara region.
On the fronts of World War II since May 1942. He fought as a rifleman in the 4th Guards Motorized Rifle Regiment of the 2nd Separate Guards Motorized Rifle Division on the Kalinin Front. He participated in the Battle of Rzhev, during which on September 13, 1942 he was wounded near the village of Znamenskoye, Rzhevsky district, Kalinin region. In the confusion of heavy bloody battles, the Red Army soldier S. Niyazov was put on the list of the dead and sent a notification of his death to his relatives.
In the autumn of 1942, S. Niyazov returned to the front and continued to fight. On December 23, 1942, he was wounded again, but this time the wound was severe. Niyazov was in an evacuation hospital in the city of Kolomna, Moscow region until August 1943.
After his recovery, he was sent as a machine gunner to the 64th mechanized brigade of the 7th mechanized corps, which was being formed in the Moscow military district. Since October 1943, as part of the mechanized corps, he fought on the 2nd Ukrainian Front.
Participated in the Nizhnedneprovsk offensive operation (October-December 1943). At the beginning of 1944 he was transferred to the artillery and until the end of the war he fought in the 275th Guards Anti-Tank Artillery Regiment on the 1st Belorussian Front, deputy gunner, gunner. Participant of the Belarusian (June-August 1944) and Vistula-Oder offensive operations, military operations to expand the Kyustrinsky bridgehead, the Berlin offensive.
At the very beginning of the Belarusian operation, on June 26, 1944, while repelling the enemy's counterattack, he destroyed a German tank and up to 40 soldiers.
For this fight he received his first award – the Medal for Military Merit. Gun number of the 275th Guards Anti-Tank Artillery Regiment (4th Guards Separate Anti-Tank Destruction Brigade, 15th Guards Cavalry Division, 69th Army, 1st Belorussian Front), bravely acted in the Lublin-Brest frontline operation – component of the Belarusian strategic offensive operation.
On July 18, 1944, near the village of Pshevaly (south of the city of Chelm, now in the Lubelskie Voivodeship, Poland), he was wounded by a shell explosion. He refused to leave the position, hastily bandaged the wounds on his own and again stood up to the gun. In this battle, the crew destroyed 1 mortar and 3 machine-gun points of the enemy, which ensured the successful advance of rifle units.
For the exemplary performance of combat missions of the Command on the front of the fight against the German invaders and the valor and courage shown at the same time, by order of units of the 15th Guards Cavalry Division, dated July 30, 1944, he was awarded the Order of Glory, 3rd degree.
The deputy gunner of the gun of the 275th Guards Anti-Tank Artillery Regiment made a new feat just a few days later, when the Belarusian offensive operation was still going on.
On the night of July 31, 1944, he was one of the first, using artillery and mortar fire, to cross the Vistula River near the village of Kempa Hotecka, Kazimierz Dolny, Lublin Voivodeship (Poland), immediately made a gun for firing on the bridgehead and joined the battle.
During the day on August 1, he repulsed 4 attacks of the German infantry, during which the crew destroyed 2 mortars, 3 machine guns, up to 40 enemy manpower. Several times the Germans broke through close to the positions of the artillerymen, and then S. Niyazov took up the machine gun and did not let them come close, while personally exterminating up to 15 enemy soldiers.
For the exemplary performance of combat missions of the Command on the front of the fight against the German invaders and the valor and courage shown at the same time, by order of the troops of the 69th Army dated August 18, 1944, he was awarded the Order of Glory, 2nd degree.
The gunner of the gun of the 275th Guards Anti-Tank Artillery Regiment (the same brigade, 5th Shock Army, 1st Belorussian Front) again distinguished himself during the hostilities to hold and expand the Kyustrinsky bridgehead.
On March 19, 1945, his gun was sent to the bridgehead and entered the battle. On March 22, north-west of the city of Kustrin (now Kostrzyn-na-Odre, Lubusz Voivodeship, Poland), the crew supported the attacking rifle units with fire, destroying 1 machine gun, 1 observation post, up to 10 soldiers, and also suppressing the fire of a German mortar. In this battle, thanks to the support of the artillerymen, the infantry took possession of the settlement of Genshmar, expanding the territory of the bridgehead.
For this feat he was presented on March 27, 1945 for the award of the Order of Glory, 2nd degree.
By the decree of the Presidium of the Supreme Soviet of the USSR dated May 31, 1945 "For the exemplary performance of combat missions of the Command at the front of the fight against the German invaders and the valor and courage shown in this," Sergeant Niyazov Said was awarded the Order of Glory, 1st degree.
Met the Victory in Berlin. In 1945, Sergeant Niyazov was demobilized. He lived in the village of Oshkan, Kitab district, Kashkadarya region. He worked as a secondary school teacher, chairman of the kishlach council, chief of staff of civil defense of the state farm, foreman of the gardening brigade of the state farm "Palandar". He retired in the 1980s
FULL CAVALER OF THE ORDER OF "GLORY"