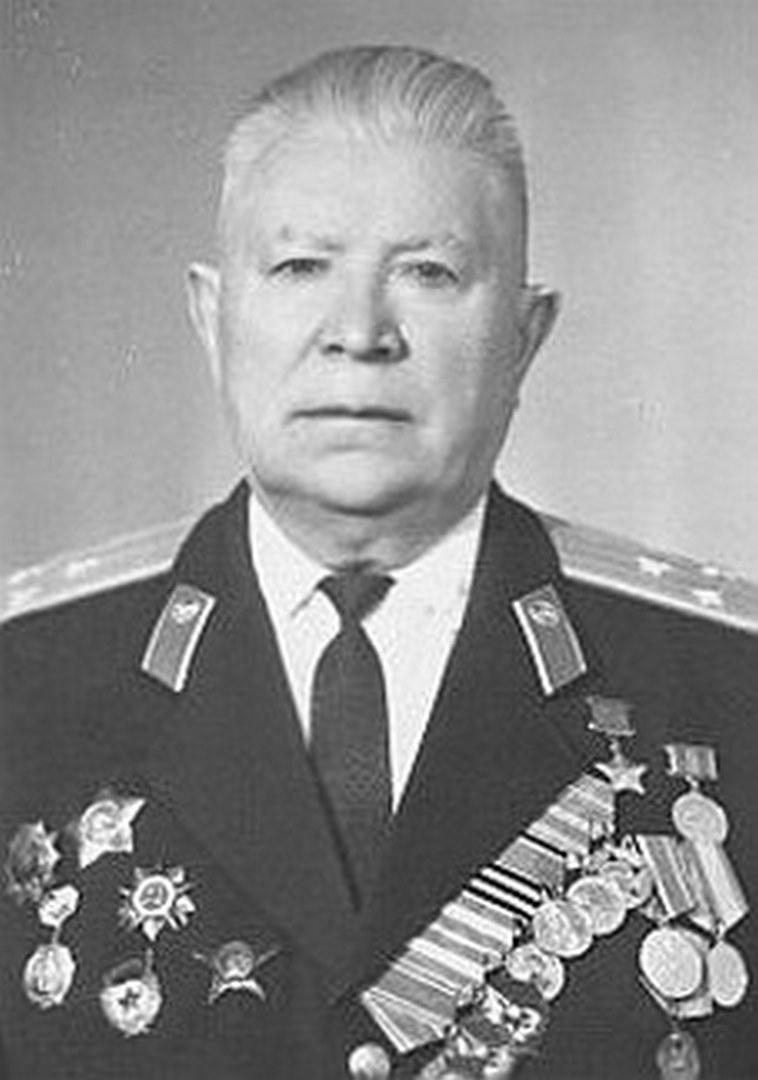 ZABRODIN NIKOLAI FEDOROVICH
Lieutenant Colonel, Participant of World War II, The Hero of the Soviet Union (June 04, 1944)
           He was born on December 19, 1905 in the village of Dubrovka (now Spassky district of Penza region) in a peasant family. He was Russian. He finished the 7th grade of school. He worked as a machinist at a flour factory in the village of Slavyansk (now the town of Slovyanka in the Chimkent region of Kazakhstan). He later lived in Fergana before the war.
          In 1927 he was drafted into the Red Army. In 1932 he graduated the Tashkent Equestrian School, in 1935 from the "Shooting" course, and in 1936 from the Military-Political Academy.
          He had been a participant in World War II since 1941. From September 28, 1943 to January 18, 1944, he was the commander of the 735th Rifle Regiment of the 166th Rifle Division (Compiled twice).
          On December 13, 1943, the 735th Artillery Regiment (the 166th Artillery Division of the 4th Assault Army of the 1st Baltic Front) under his command was sent to the town of Nevel, Pskov Region near the village of Kuzmino of Gorodok District of Vitebsk region of Belarus and occupied the path, and broke the link connecting the two large groups of the enemy.
          On December 16, 1943, the enemy broke through the defenses of the Soviet troops in the territory of the neighboring division, as a result of which the units of the 735th Artillery Regiment were completely surrounded. The enemy's two infantry regiments, tanks and artillery hit Lieutenant Colonel Zabrodin's regiment. As a result of the regiment commander's skillful organization of the circular defense, the regiment moved in a siege, successfully repellied heavy casualties on the enemy until the next morning. In the morning, Zabrodin's regiment joined the units of the tank corps, which were moving towards the city of Nevel.
During the battles of December 13-17, 1943, the regiment led by Lieutenant Colonel Nikolai Zabrodin inflicted heavy casualties on the enemy's manpower and equipment, he killed exactly 700 enemies and wounded 1,500 infantry, captured 237 German soldiers and officers, and destroyed 15 tanks, almost 40 vehicles with personnel inside, and a lot of weapons and mortars. 
By the Decree of the Presidium of the Supreme Soviet of the USSR of June 4, 1944, "For exemplary performance of combat duties, courage and heroism in the fight against Nazi invaders on the front", Lieutenant Zabrodin Nikolai was awarded the title of "The Hero of the Soviet Union".
After the war he served in various command and staff positions. He was released in 1954.
He lived in Dnepropetrovsk. He died on January 16, 1988, and was buried in Sur-Lithuanian Cemetery.
His bust was erected in the Alley of Heroes in Bednodemyanovsk.
GOLD STAR MEDAL OF THE HERO OF THE SOVIET UNION
THE ORDER OF "THE RED BANNER"
THE ORDER OF "SUVOROV" OF THE 3RD DEGREE
THE ORDER OF "THE PATRIOTIC WAR OF THE I DEGREE