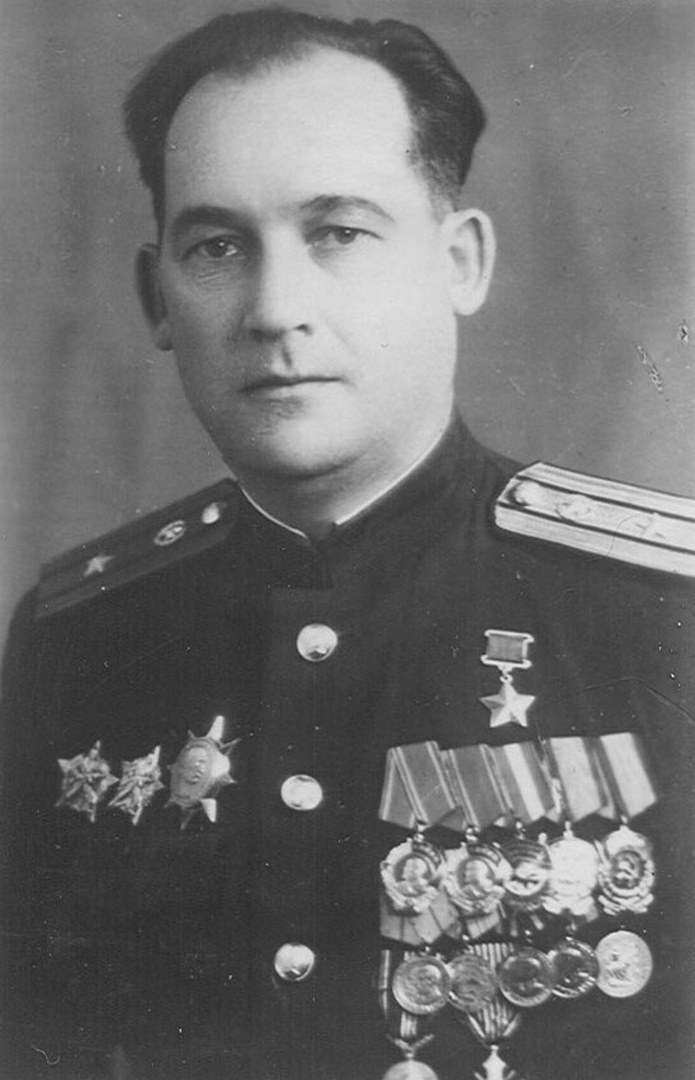 YEGOROV ALEXEY SEMENOVICH
 The commander of Partisan Brigade, Participant of World War II, The Hero of the Soviet Union (May 2, 1945)
 He was born on November 22, 1914 in Andijan (Uzbekistan) in a peasant family. He was Russian. In 1938, A.S. Yegorov was drafted into the Red Army, then studied at a military academy and became a commander after graduation. In 1941-1942 he continued his studies at the Military Academy in Tashkent.
From August 1942, he worked as the head of the financial service of the guerrilla school at the Central Headquarters of the Guerrilla Movement in Moscow. During his service, he mastered the art of direct mine action, becoming a skilled instructor and blasting manager. In June 1943, by order of the Central Committee of the Communist Party (b), A.S. Yegorov was sent to the partisan unit under the command of A.F. Fedorov as the Deputy Commander for Subversion Affairs.
A.S. Yegorov joined diversionary training groups and taught guerrillas how to detonate new types of mines. The guerrillas knew about old type of crushed and fast-moving mines. New slow-moving mines required new methods. In a short period of time, the first diversion teams learned how to use new mines. To determine the effective use of mines, A.S. Yegorov was personally involved in the sabotage. In July 1943, he went to the eastern railroad of Manevichi station with ten saboteurs and a security platoon, where he led groups in the installation of slow-moving mines. The guerrillas tricked the German guards and planted mines on the railway. After the allotted time, slow-moving mines explode 7 military echelons and an enemy armored train. With the help and guidance of A.S. Yegorov, the guerrillas gained experience in the use of new mines. The results of a careful study of explosive devices yielded immediate results. No train was able to reach Kovel-Brest for two weeks after the guerrillas carried out a sabotage operation on the Kovel-Sarny railway. In August 1944, A.S. Yegorov with a group of small guerrilla paratroopers flew to Slovakia, behind lines of the enemy. There he took an active part in the Slovak national uprising and led a partisan detachment. After some time, at the expense of the local population, this unit became a brigade of about three thousand people.
They blew up 21 bridges, destroyed 20 military echelons, and destroyed many enemy manpower and equipment. A.S. Yegorov continued to fight the Nazis until he met with Red Army units.
By the Decree of the Presidium of the Supreme Soviet of the USSR of May 2, 1945, "For his courage and heroism in the fight against Nazi invaders", Yegorov Alexei Semenovich was awarded the title of "The Hero of the Soviet Union".
He died on April 15, 1970.
GOLD STAR MEDAL OF THE HERO OF THE SOVIET UNION
THE ORDER OF "THE RED BANNER"
THE ORDER OF "THE PATRIOTIC WAR OF THE I DEGREE"
THE ORDER OF "THE PATRIOTIC WAR OF THE II DEGREE"
THE ORDER OF "THE RED BANNER OF LABOR"​
THE MEDAL OF "FOR COMBAT MERIT"
THE MEDAL OF "TO THE PARTISAN OF THE PATRIOTIC WAR" OF THE 1ST DEGREE
THE MEDAL OF "TO THE PARTISAN OF THE PATRIOTIC WAR" OF THE 2ND DEGREE
THE MEDAL OF "FOR THE VICTORY OVER GERMANY"