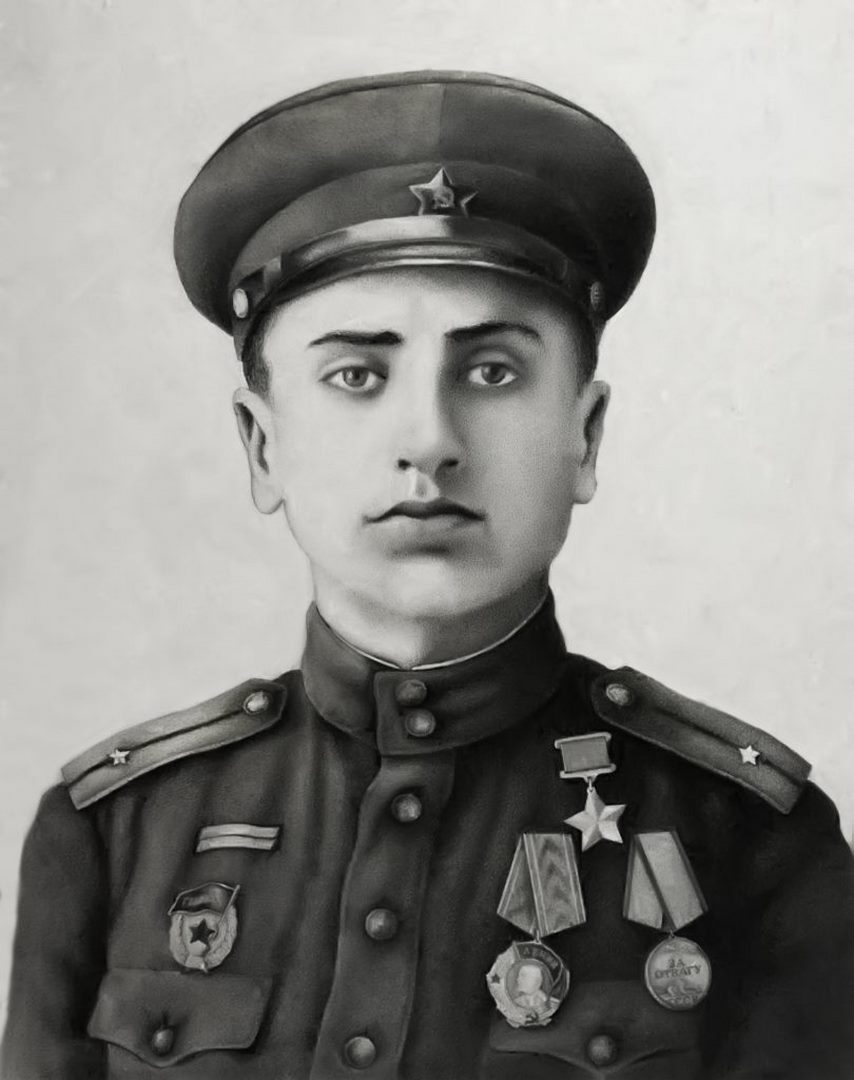 YAKUBOVSKIY ISROIL SEMENOVICH
 Junior Lieutenant, Participant of World War II, The Hero of the Soviet Union (May 16, 1944)
He was born on October 26, 1924 in Cherkasy in a working-class family. He was Jewish. He graduated from the 9th grade of high school. He worked as a plumber in a machine shop.
In 1942 he was drafted into the Red Army by the Samarkand military commissariat. In 1943 he graduated from the Tashkent Machine Gun School. From September 1943 he served in World War II. He fought on the North Caucasus front.
On November 2, 1943, the 6th Guards Rifle Regiment was preparing to land on the enemy-occupied Kerch Peninsula. The paratrooper took command during landing. A platoon of anti-tank weapons and two groups of machine gunners were to destroy the enemy's firing points.
Heavy artillery and mortar fire could not stop the paratroopers, and the group landed on the shore and occupied the bridgehead near the village of Zhukovka. There was a fight at night to hold the bridgehead. In the morning, the enemy began to fire, stopping the paratroopers from advancing. As soon as the shooting was over, the Nazis began to attack the paratroopers. The soldiers continued the fight and returned the attack. The Germans launched another "mental attack", and it was also repulsed.
When the Germans attacked for the fourth time, the warriors were tired of sleepless nights and hours of fighting, they began to retreat. Then I.S.Yakubovsky stood up with a pistol in his hand and shouted: "Guardsmen! For the motherland! Go ahead!" He himself also began to attack against the enemy.
The commander's actions inspired the fighters and they also stood up and followed him. The situation was restored and the attack was repulsed.
He was killed on April 10, 1944 in a battle near the village of Smolitsa, Bikhovsky district, Mogilev region, and was buried there.
By the Decree of the Presidium of the Supreme Soviet of the USSR of May 16, 1944, "For exemplary performance of combat duties, courage and heroism in the fight against Nazi invaders on the front", Junior Lieutenant Isroil Semenovich Yakubovskiy was awarded the title of "The Hero of the Soviet Union".
GOLD STAR MEDAL OF THE HERO OF THE SOVIET UNION
THE MEDAL OF "FOR COURAGE"