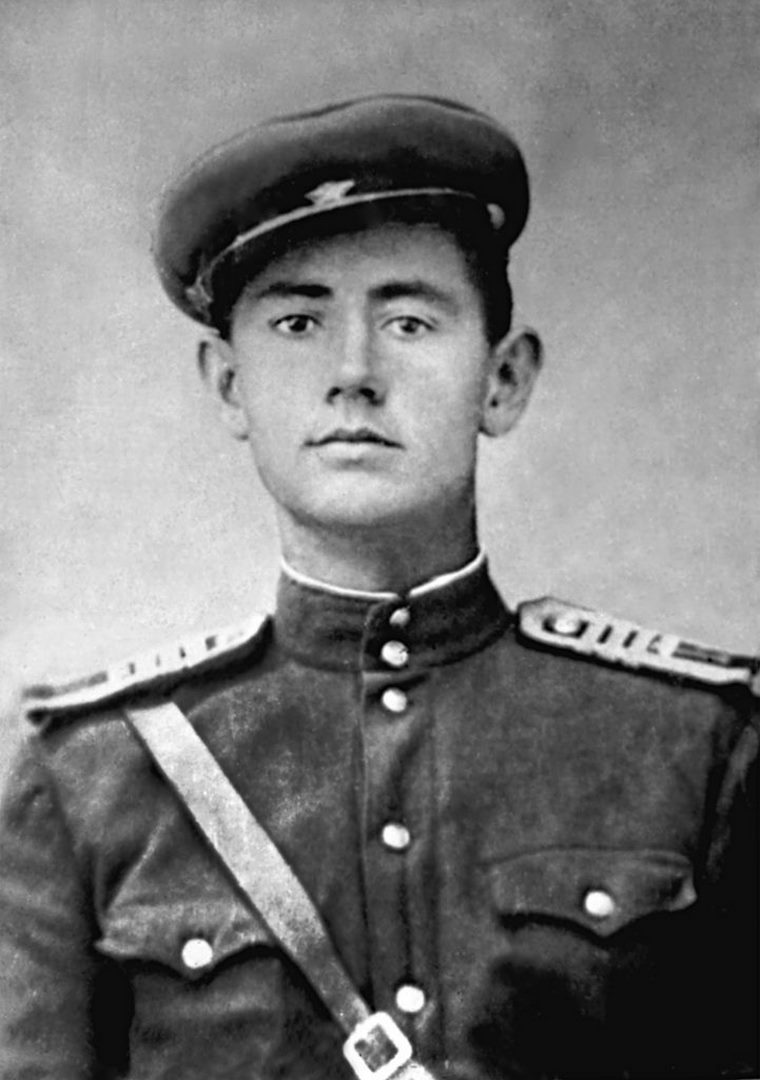 UTKIN YEVGENY DMITRIYEVICH
Lieutenant of the Guard, Participant of World War II, The Hero of the Soviet Union (April 10, 1945)
He was born in 1924 in the village of Andreyevka, (now Jualinskaya district of Jambyl region of Kazakhstan). He worked as a plumber in the workshop of the cotton farm "Five years of the Uzbek SSR" in Galabinsk district of Tashkent region.
On October 20, 1942 he was drafted into the Red Army by the military commissariat of the Kuyi-Chirchik district of the Tashkent region of the Uzbek SSR. He entered the Kharkiv Tank School in Tashkent.
On December 26, 1943, he took part in the first battle for Zhytomyr. After the liberation of the city, Lieutenant Utkin was given "Certificate of Honor" by the Supreme Commander.
Utkin took part in the battles in 1944, was awarded order and medals. He destroyed the enemy in the Lvov region, and fought on the bridgehead of Sandomierz. In the summer he was promoted to lieutenant. He was seriously wounded in one of the battles, but returned to service without waiting for a full recovery. At the end of the year, he was promoted to the rank of tank company commander as an experienced officer.
After breaking through the enemy's defenses in January 1945, the tankers began to fight. By chasing the enemy, they traveled several kilometers a day. Lieutenant Utkin's tank route was at the head of the brigade. The brigade moved at the head of the main forces and on January 17, 1945, was the first to invade the city of Sulayzhov (Poland), an important base of enemy defense.
On January 31, 1945, at the Oder bridgehead in the village of Zofiental (now south of Zdzieslavovice Hur), under the command of Lieutenant Utkin, the 93rd Tank Brigade of the 4th Tank Army of the 1st Ukrainian Front repulsed the enemy's counter-attack. The tankers covered more than 600 kilometers during the battle.
In Oder, the enemy sent its two most powerful tank divisions, "the German Gering" and "the Brandenburg", to the occupied bridgehead against the Soviet Army.
Officer Utkin's tankers fight heroically. In the bridgehead alone, his company destroyed 8 enemy tanks, more than 20 armored vehicles, several artillery pieces and many enemy forces.
On February 16, the enemy launched a fierce counterattack against the company with a superior force. Utkin boldly began to force his tanks to fight. As the Nazis began to retreat, the enemy's self-propelled artillery suddenly appeared on the side of the Utkin route. It targeted the company commander's car, killed Lieutenant Utkin and injured other crew members. The hero was buried in Shittsov, Poland.
By the Decree of the Presidium of the Supreme Soviet of the USSR of April 10, 1945, "For exemplary execution of orders and courage and heroism in the fight against the Nazi invaders", Lieutenant Yevgeny Dmitriyevich Utkin was awarded the title of "The Hero of the Soviet Union" (after his death).
GOLD STAR MEDAL OF THE HERO OF THE SOVIET UNION
THE ORDER OF "THE RED BANNER"