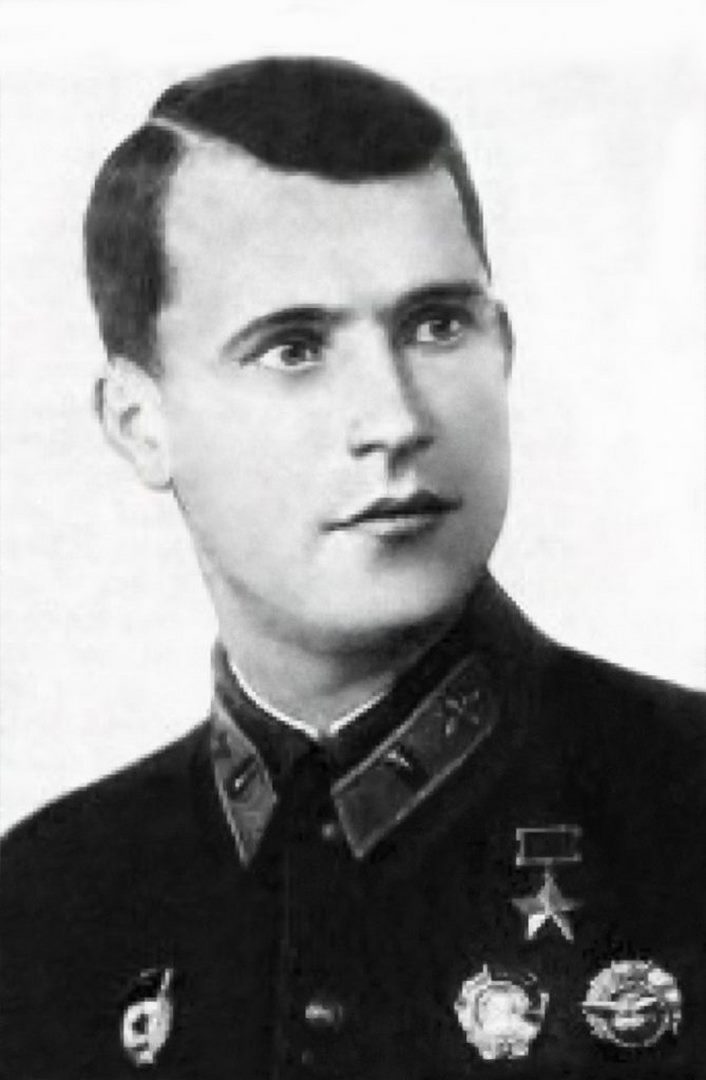 TIKHOMOLOV BORIS YERMILOVICH
Major, Participant of World War II, The Hero of the Soviet Union (December 31, 1942)
He was born on June 28, 1913 in Baku, and he was an orphan. Boris grew up in an orphanage and was adopted by the family of sailor Yermil Tikhomolov. In 1918, the family left Baku, traveled to Russian cities and settled in Tashkent.
In 1933 he graduated from the Third United Pilot and Aviation School of the Civil Air Fleet in Balashov. In Tashkent he worked as a pilot of civil aviation. He carried passengers, cargo and mail by air.
Until August 1942, Captain Boris Tikhomolov, a pilot of the 750th Air Regiment (17th Aviation Division, ADD), had made 25 combat sorties to bomb important targets in the enemy's rear.
He carried out night bombings of German industrial facilities, airfields, railways, echelons, and concentration camps of enemy troops in Smolensk, Orsha, Vitebsk, Bryansk, Kharkiv, Kursk, Voronezh, as well as Berlin and Konigsberg.
In November-December 1943, Major of the Guard T.E.Tikhomolov, along with other crews, participated in the Tehran Conference of the Heads of Government of the anti-Hitler coalition (from November 28 to December 1, 1943). On April 16, 1945, he took part in Operation of Berlin. During the war, T.E.Tikhomolov made 212 combat sorties.
By the Decree of the Presidium of the Supreme Soviet of the USSR of December 31, 1942, "For exemplary performance of combat duties, courage and heroism in the fight against Nazi invaders on the front", Major Boris Tikhomolov was awarded the title of "The Hero of the Soviet Union".
He lived in Tashkent. He died on December 17, 1991, and was buried in the Alley of Heroes in Tashkent.
GOLD STAR MEDAL OF THE HERO OF THE SOVIET UNION
THE ORDER OF "THE RED BANNER"
THE ORDER OF "THE PATRIOTIC WAR OF THE I DEGREE"