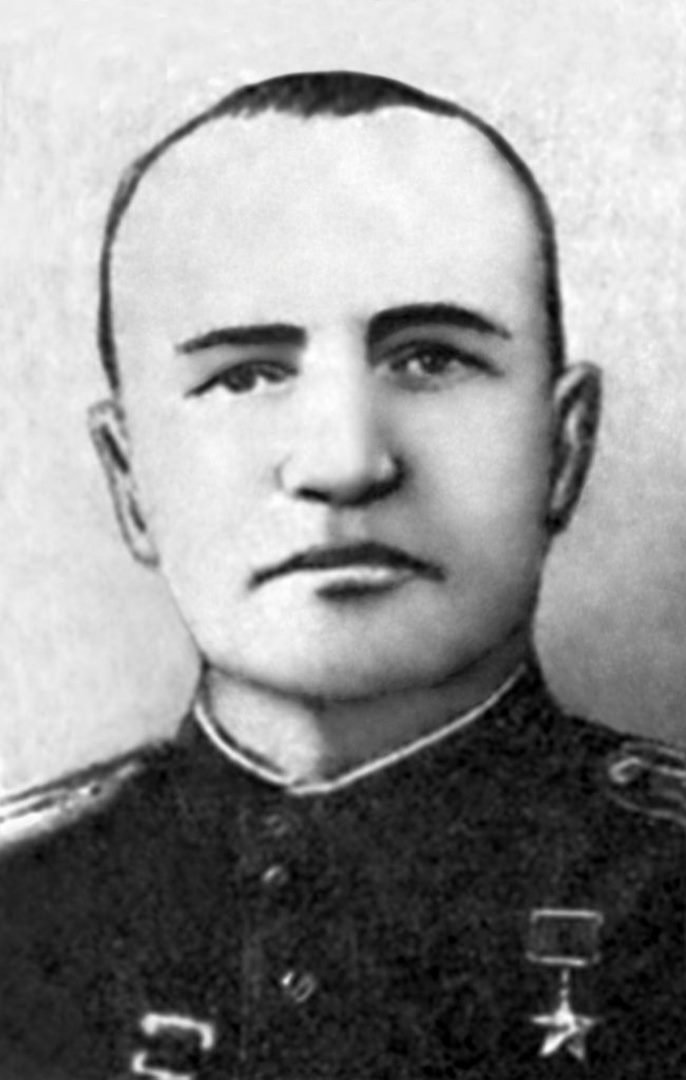 SMIRNOV ARKADIY ALEXANDROVICH
Colonel of the Guard, Participant of World War II, The Hero of the Soviet Union (May 15, 1945)
He was born on April 8, 1909, in the village of Gavshinsky, Borisoglebsky District, Yaroslavl Region. He graduated from the Vocational Technical School of Printing. He worked as a translator of printing house in Tashkent.
In 1931 he was drafted into the Red Army. In 1934 he graduated from the Tambov Cavalry School. From August 1941 he served in World War II. He fought in the cavalry during the war. In 1942, he completed a cavalry course to improve his command skills.
In the battles for the liberation of Poland in January 1945, he skillfully organized the regiment's efforts to break through the enemy's defenses at the division's vanguard. On January 18, he chased the retreating enemy, invaded Lovich, and liberated it.
The enemy lost important rail and highway connections. During the battle, the cavalry killed more than 200 enemies and captured a large amount of booty.
On January 21, Smirnov's regiment prevented the enemy from entering a new defensive line, defeated more thane one German battalion of fascists and captured the city of Argenau. In the battles for the city of Bromberg, Smirnov's regiment defended the rear and sides of the division attacking the city. The enemy attacked the division from the sides and tried to move to the rear. When the enemy was weakened, Smirnov left a small group of defenders on the flank of the division, and with the rest of his forces he moved rapidly towards the south-western edge of the city and broke through. The cavalry destroyed two enemy infantry routes, captured 6 warehouses, many vehicles and other equipment.
In the spring of 1945, he skillfully commanded the unit during the German attacks. In late April, the 15th Cavalry Regiment pursued the retreating enemy and advanced into the Frizikkerrin Canal near the village of Frizak.
Despite heavy fire from enemy mortars and machine guns, the soldiers built a bridge at night and on the morning of May 2, attacked the enemy's defenses and captured the bridgehead. Quickly and simultaneously launching an attack from both sides, the regiment pursued the enemy, invaded the town of Worcesterhausen, and occupied several settlements. In the battle, Smirnov's guards killed more than 500 enemies and captured 200, and captured 18 cannons, 30 cars, 8 warehouses, hundreds of rifles and machine guns.
By the Decree of the Presidium of the Supreme Soviet of the USSR of May 15, 1946, "For exemplary performance of combat duties, courage and heroism in the fight against Nazi invaders on the front", Colonel Smirnov Arkadiy was awarded the title of "The Hero of the Soviet Union".
In 1952 Colonel Smirnov went on reserve. He lived in Riga. He died on November 18, 1959.
There is a marble stone with a portrait of the Hero at the monument of compatriots in his homeland, in the village of Borisoglebskiy.
GOLD STAR MEDAL OF THE HERO OF THE SOVIET UNION
THE ORDER OF "THE RED BANNER"
THE ORDER OF "SUVOROV" OF THE 3RD DEGREE
THE ORDER OF "THE PATRIOTIC WAR OF THE I DEGREE"