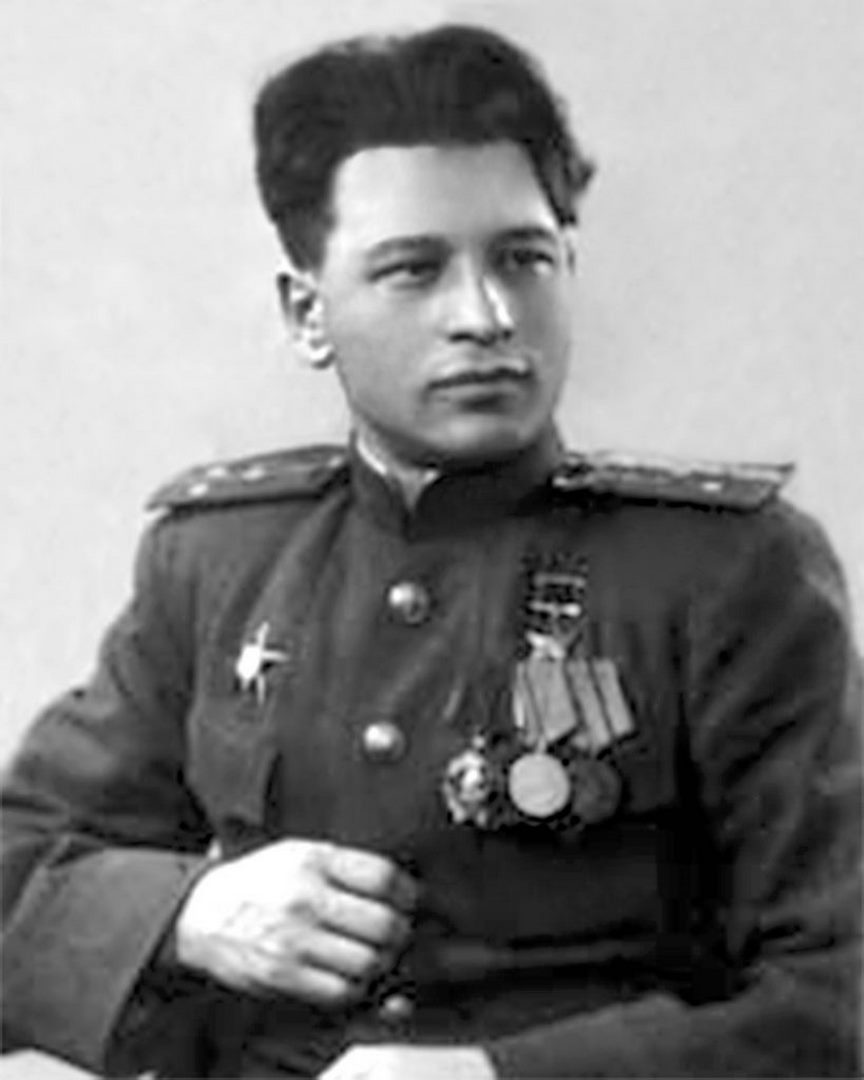 SIROTINKIN VASILIY IVANOVICH
Lieutenant of the Guard, Participant of World War II, The Hero of the Soviet Union (March 19, 1944)
He was born on December 29, 1923, in the village of Visokoye in a peasant family. He was Russian. He graduated from the 2nd year of pedagogical school named after Shatsky. In November 1941 he was drafted into the Red Army by the Tashkent Military Commissariat. In February 1942, he graduated from the Tashkent Radio-Telegraph of Junior Lieutenants Course.
From February 1942, he served in World War II. He was the air traffic controller of the airborne brigade. He fought on the Southwest, Stalingrad and the 3rd Ukrainian fronts. He was promoted from group commander to deputy commander of the artillery battalion for political affairs.
On October 24, 1943, the Deputy Minister of Political Affairs of the 120th Guards Artillery Regiment Battalion of the 39th Guards Artillery Division of the 8th Guards Army of the 3rd Ukrainian Front, Lieutenant of the Guards Vasiliy Ivanovich Sirotkin, was one of the first to cross the Dnieper River on south of Dnepropetrovsk city. The battalion began to fight and occupied a convenient line (boundary). In one day, a group of 22 volunteers repulsed 10 counterattacks of the enemy and ensured the battalion to cross the river.
By the Decree of the Presidium of the Supreme Soviet of the USSR of March 19, 1944, "For exemplary performance of combat duties, courage and heroism in the fight against Nazi invaders on the front", Lieutenant Vasiliy Sirotkin was awarded the title of "The Hero of the Soviet Union".
In March 1944, he became the Komsomol organizer of the Reserve Rifle Regiment. He had taught since October 1945. In 1975 he was promoted to Major General. He was a candidate of historical sciences and associate professor. He resigned in September 1986.
He died on August 9, 2008 in St. Petersburg and was buried in the cemetery in the village of Pesochny (St. Petersburg).
GOLD STAR MEDAL OF THE HERO OF THE SOVIET UNION
THE ORDER OF "THE RED BANNER"
ORDER "FOR THE SERVICE OF THE MOTHERLAND IN THE ARMED FORCES OF THE USSR"
MEDAL "IN CELEBRATION OF THE 100th ANNIVERSARY OF THE BIRTH OF VLADIMIR ILYICH LENIN."