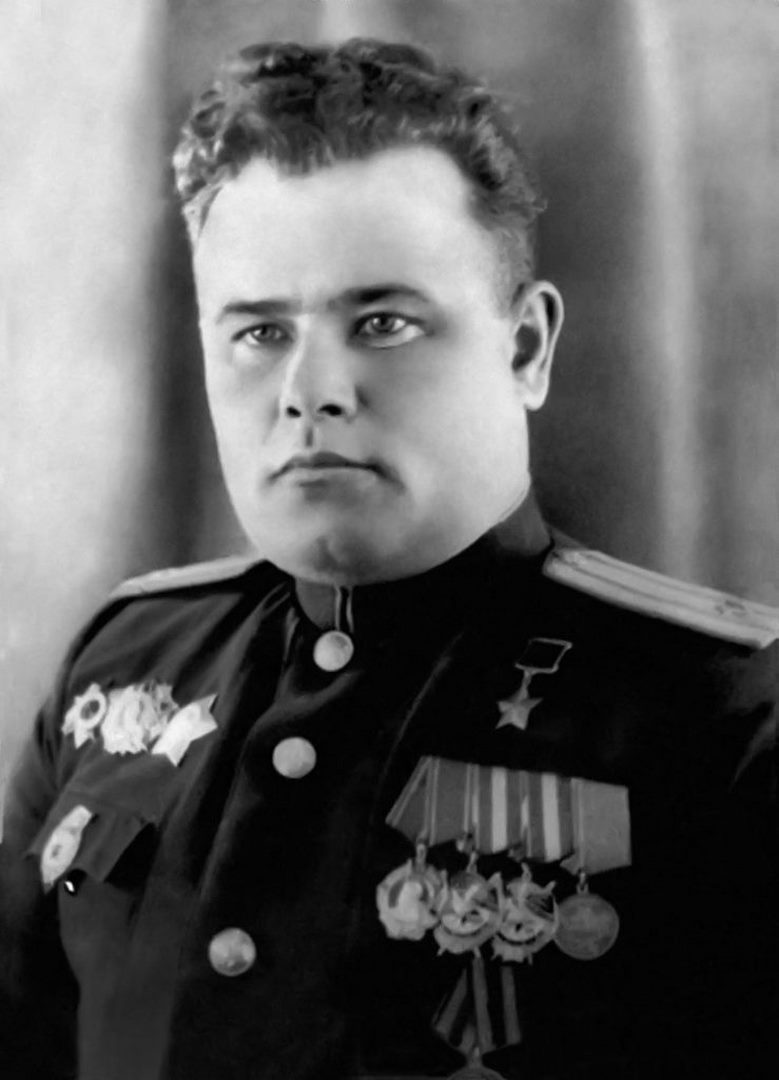 MANOSHIN KONSTANTIN VASILEVICH
lieutenant colonel, participant of World War II, Hero of the Soviet Union (October 26, 1944)
   Konstantin Manoshin was born on May 11, 1917 (24) in the village of Suksun (now Perm Krai). He graduated from the 9th grade of the school. In 1935, Manoshin was drafted into the Red Army by the military commissariat of the Kuibyshev district of Tashkent.
   In 1938 he graduated from the Engels Military Aviation Pilot School and from September 1942 participated in World War II.
   Until July 1944, Major Konstantin Manoshin was a stormtrooper of the 1st Baltic Front, the 1st Guards Fighter Aviation Corps of the 3rd Air Force, the 4th Guards Fighter Aviation Division, and the 64th Guards Fighter Aviation Regiment. By this time, he had flown 132 combat sorties, participated in 38 air battles, shot down 12 enemy aircraft personally and 4 in a group.
   By the Decree of the Presidium of the Armed Forces of the USSR of October 26, 1944, Senior Lieutenant Konstantin Manoshin was awarded the title of Hero of the Soviet Union "For bravery and heroism in air battles."
   He lived in Voronezh. He died Aug. 23, 1971, and was buried in the left bank cemetery.
ORDER OF SUVOROV 1, 2, 3 DEGREES
ORDER OF ALEXANDER NEVSKY
ORDER OF THE PATRIOTIC WAR, 1ST CLASS