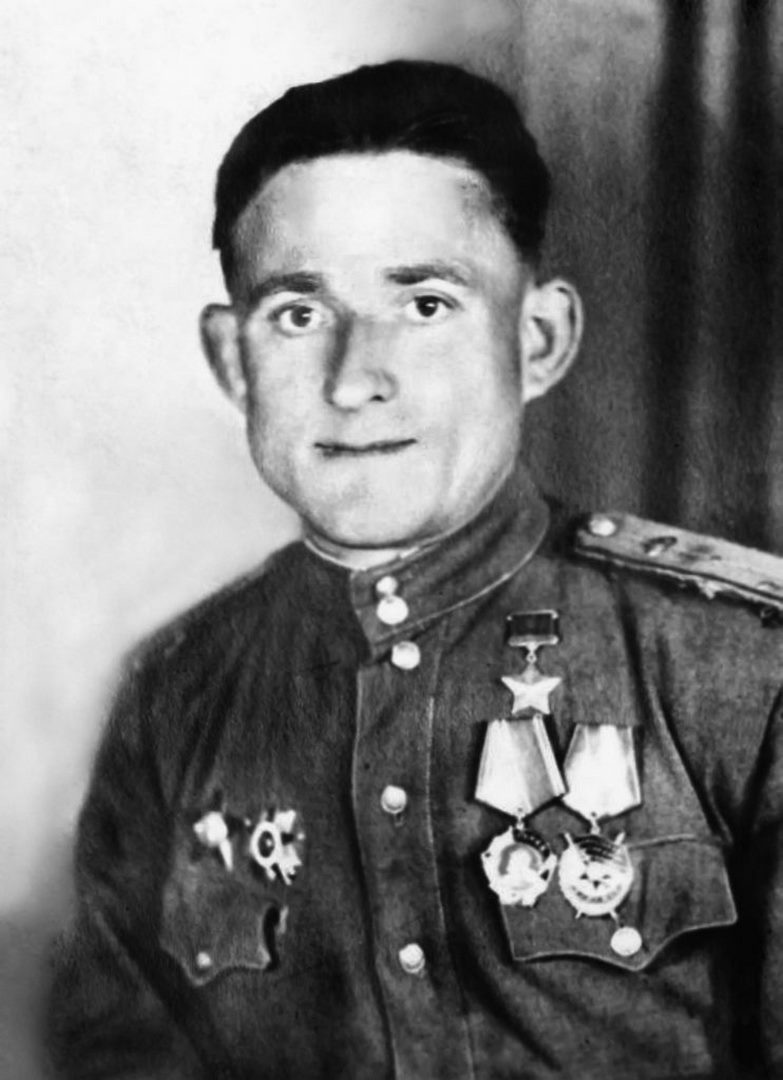 GNILOMEDOV IVAN ANDREYEVICH
senior lieutenant, participant in World War II, Hero of the Soviet Union (31.05.1945)
He was born in 1919 in Buzuluk, Orenburg region, in a working class family. He was the youngest and sixth child in the family. Rus. He graduated from high school. The apprentice later worked as a mechanic at the Kirov Mechanical Plant.
In 1939 he was drafted into the Red Army by the Novoorsky District Military Commissariat. He fought on the front from October 1941 until Victory Day. In 1944 he graduated from the Pushkin Tank School (Ribinsk).
He fought on the fronts of Karelia, 1st Ukraine, 1st Belarus. He liberated Ukraine, Poland, and crossed the Western Bug, the Vistula, and the Oder. Covey, Lyubomir Radzyn-Podlyaski, Pulavi (Pulavsk resource), Honeydukes, Sedltse, Zvolen, Radom, Lodz, Tomashuv Mazovetskiy, Poznan, abusive, Srem, GRODZISK, Chapman, Volshtin, Babimost, Myunheberg to participate in the release of the cities and Fridrihsfeld.  He was injured. He took part in the operation to preserve and expand the platsdarm in the Kustrin area (February-March 1945), attacking the Imperial Chancellery and the Reichstag. In 1945, Victory was celebrated in central Berlin.
From October 13, 1941 to February 15, 1943 he was an intelligence officer. From March to April 1944 he took part in the Proskurovsk-Chernovits offensive operation (as part of the 13th Army).From April 16 to April 19, 1945, it destroyed 8 tanks (three Panthers, one Tiger and four Pz Kpfv IV), 3 self-propelled guns, 3 anti-tank guns, and 125 enemy soldiers and officers.
On April 16, 1945, near the intersection of Verbig (Germany: Verbig) on ​​the East Prussian Railway (German: Preuische Ostbahn), north of the city of Zeelov, senior lieutenant A. Gnilomyodov was blocked by German troops and his convoy was stopped. The task is loaded. The tank platoon moves towards the enemy. The fire engulfed the convoy's vehicles, leaving enemy soldiers under Soviet tank fire. He took his platoon to the wing of the defending enemy and opened fire with machine guns and cannons, destroying three T-5s, one T-6 tank and 35 Faustians.
On April 18, 1945, he repulsed a counterattack by enemy tanks in the village of Vulkov, 10 km northwest of Zeelov, destroying four TT-4 tanks. A 58.7-meter-high rapid attack north of Lake Hauszsz destroys three anti-tank artillery pieces and about 30 enemy soldiers. In the ensuing battle, the machine gun caught fire, injuring itself. He puts out the fire and takes his car to a shelter.
By the Decree of the Presidium of the Supreme Soviet of the USSR of May 31, 1945, Senior Lieutenant Gnilomedov Ivan Andreyevich was awarded the title of Hero of the Soviet Union "For exemplary performance of combat duties, courage and heroism of the command in the fight against Nazi invaders on the front".
After the war, he lived in Tashkent for a while, then worked in Buzuluk, where he carried out military-patriotic work.
He died on October 21, 1987.
GOLD STAR MEDAL OF THE HERO OF THE SOVIET UNION
THE ORDER OF "THE PATRIOTIC WAR OF THE I DEGREE"