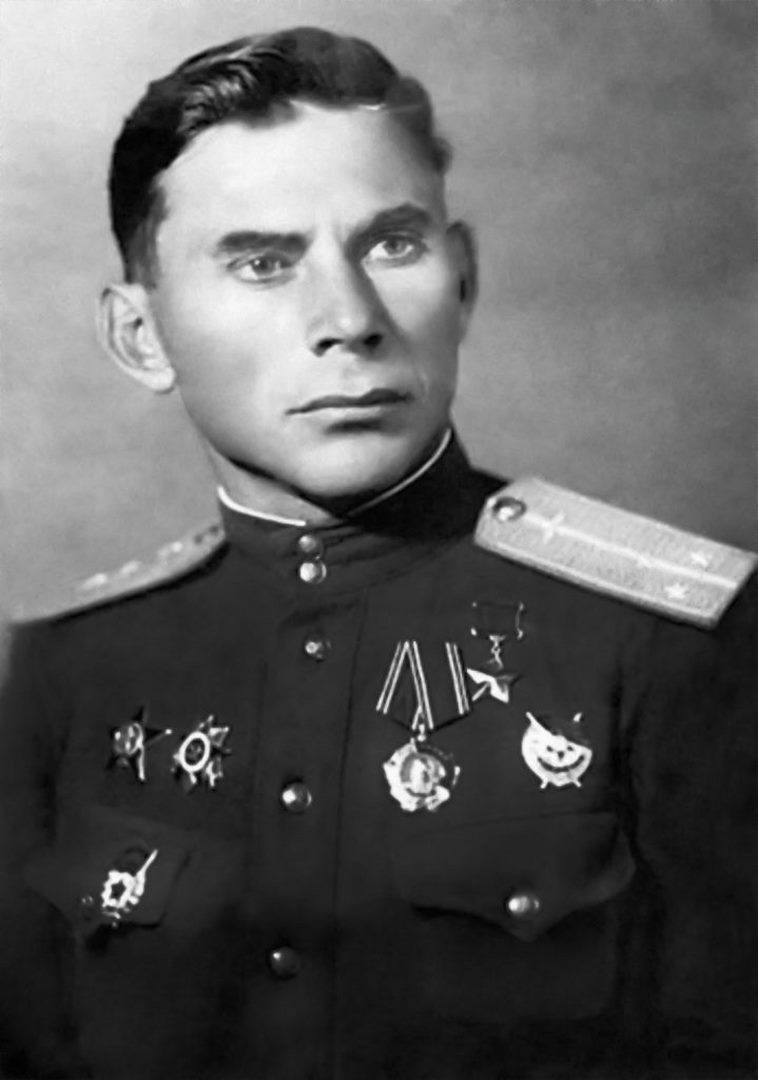 EMELYANENKO VASILIY BORISOVICH
 guard captain, a participant in World War II, Hero of the Soviet Union (04.13.1944)
Born on January 16, 1912 in the village of Nikolaev Astrakhan Province, now the city of Nikolaevsk, Volgograd Region, in a working class family. Russian.
In 1932, a student of the composer's faculty of the Moscow Conservatory entered the Saratov school of pilots of Osoaviahim and graduated from it a year later. A year later he graduated from the Central Flight Instructor School in Moscow.
In June 1941 he worked as an instructor pilot at the Nikolaev flying club. With the begining of World War II, he voluntarily came to the draft board and was sent to the training center of the Southern Front. In May 1942 he was sent to the front in the 4th Assault Aviation Regiment (subsequently the 7th Guards Order of Lenin Assault Aviation Regiment). The basics of the combat use of the attack aircraft Il-2 comprehended under the leadership of Nikolai Antonovich Tooth.
In the summer of 1942, he led a group of six IL-2s to attack a column of German troops in the Manych Canal area. During the mission, his plane was shot down by anti-aircraft fire. He made an emergency landing in the steppe a kilometer from the broken column. Under enemy fire, one of the group's pilots Mikhail Talykov landed his plane nearby, took Emelianenko, and saved his life.
By August 1943, the navigator of the 7th Guards Assault Aviation Regiment (230th Assault Aviation Division, 4th Air Army, North Caucasus Front) on an IL-2M aircraft made 88 sorties, destroyed and damaged 23 enemy aircraft, shot down and burned dozens of tanks and vehicles, inflicted great damage to the enemy in manpower. In air battles he personally shot down 2 enemy aircraft. Three times he was shot down by enemy.
At the end of 1943 he was appointed inspector for the piloting technique of the 230th Assault Aviation Division. Flew out with groups on combat missions, passing on his rich combat experience to young pilots.
By a decree of the Presidium of the Supreme Soviet of the USSR of April 13, 1944, "For the exemplary performance of combat missions of command on the front of the struggle against Nazi invaders and the courage and heroism shown at the same time", guard captain Emelyanenko Vasiliy Borisovich was awarded the title of Hero of the Soviet Union.
In 1944 he was sent to study at the Air Force Academy, where he graduated with a gold medal. After the war, he worked as a teacher in the Department of Aviation Tactics at the MV Frunze Military Academy; candidate of military sciences. Since 1973, with the rank of colonel, he retired, then resigned.
He died on February 24, 2008 in Moscow.
GOLD STAR MEDAL OF THE HERO OF THE SOVIET UNION
THE ORDER OF "THE RED BANNER"
THE ORDER OF "THE PATRIOTIC WAR OF THE I DEGREE"
THE MEDAL OF "FOR THE VICTORY OVER GERMANY"
THE MEDAL OF "FOR COMBAT MERIT"
THE MEDAL OF "FOR THE DEFENSE OF CAUCASUS"