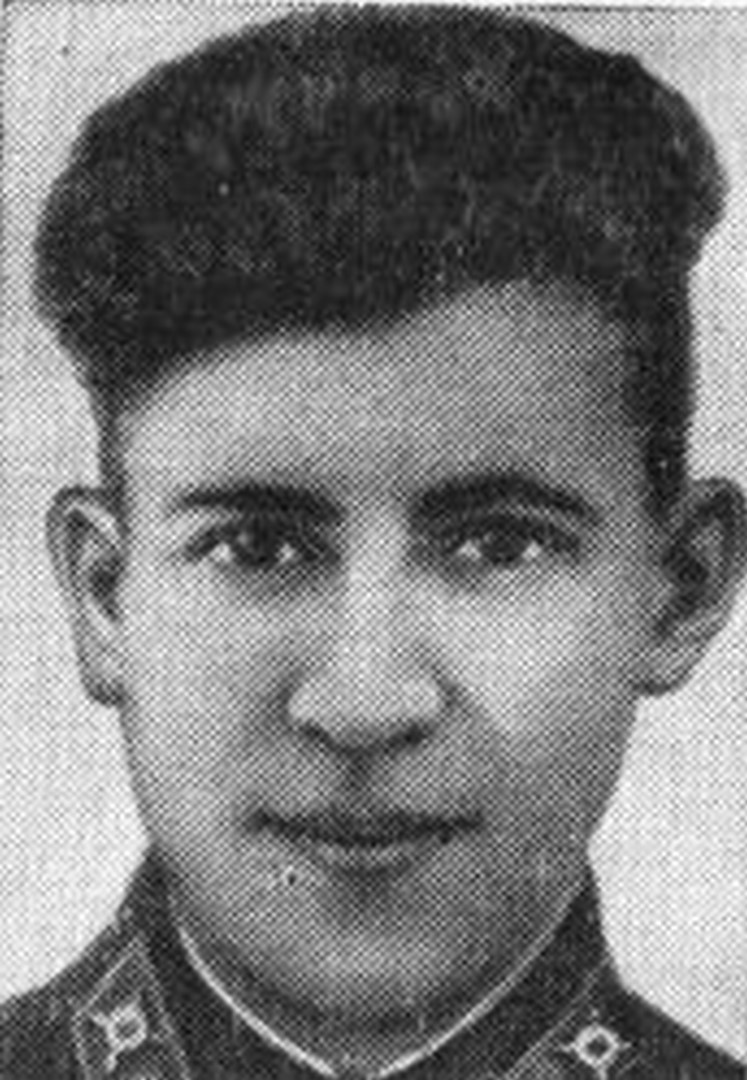 DOLJANSKY YURI MOISEYEVICH
Senior Lieutenant of the Guard, Participant of World War II, The Hero of the Soviet Union (October 16, 1943)
He was born on May 31, 1923, in the village of Veselye Terny (now Krivoy Rog) in a working-class family. He was Jewish.
Before the war he lived and studied in Namangan region and was called up for military service by the military commissariat of Namangan city.
In July 1941, a student of the Faculty of Electro mechanics of Krivorojsk Mining Institute, Y.M.Doljansky, was drafted into the Red Army. In 1942 he graduated from the Military-Political School.
He fought on the Bryansk and Central fronts. He took part in the battles of the Volga, Kursk and the liberation of the left bank of Ukraine. In particular, his military skills were demonstrated in the battle for the Dnieper.
On September 26, 1943, Yuri Doljansky was one of the first volunteers to cross the Dnieper near the village of Parijev in the Chernobyl district of the Kiev region.
The division managed to cross the river suddenly and firmly occupied
"a small area" on the right bank of the Dnieper.
The Nazi artillery did not expect this, they launched the first attack. Senior Lieutenant Yu.M.Doljansky and a group of soldiers collided with an approaching enemy and resisted with fire, arrows, and spears. They forced the enemy to retreat, leaving the dead and wounded.
Soon they began a massive shelling of paratroopers. Then the Nazis began to move forward under the cover of armored vehicles. Doljansky managed to destroy the enemy's self-propelled artillery with a precise anti-tank weapon. Several armored vehicles were destroyed by the fighters in a comfortable position. When the Nazi arrows approached 20-30 meters, grenades were fired at them. After the explosion, Yu.M.Doljansky jumped out of the trench. After him, other soldiers also entered the battle with the Nazis. The enemy could not withstand a brutal attack. About a hundred Nazis were killed. Another attack was repulsed.
More than 300 Germans attacked the village of Berestovets of Boronensk district of Chernigov region with the help of tanks and planes. In such a precarious situation, Doljansky inspired his staff and managed to stop the unequal enemy. He also personally captured three German soldiers in the battles for the village of Furmanka.
By the Decree of the Presidium of the Supreme Soviet of the USSR of October 16, 1943, "For exemplary performance and bravery and heroism of the command in the fight against Nazi invaders on the front", Senior Lieutenant Yuri Moiseyevich Doljansky was awarded the title of "The Hero of the Soviet Union".
However, the brave officer was not given the worthy award of the Motherland during his lifetime. On November 27, 1943, Yuri Moiseyevich Doljansky died in battle. He was buried in Kiev in the Garden of Eternal Glory of World War II soldiers.
GOLD STAR MEDAL OF THE HERO OF THE SOVIET UNION
THE ORDER OF "THE PATRIOTIC WAR OF THE II DEGREE"
THE MEDAL OF "FOR COURAGE"