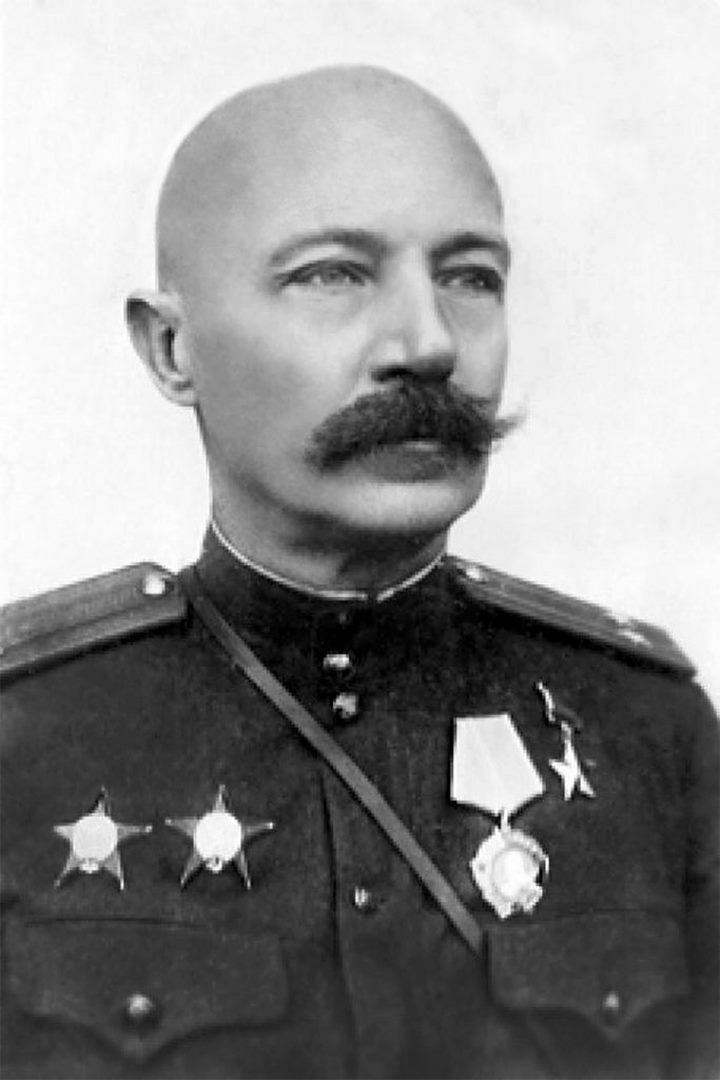 BARANOV NIKOLAI ANDREYEVICH
 Major, Participant of World War II, The Hero of the Soviet Union (October 26, 1943)
He was born on November 12, 1893 in Moscow in a family of servants.
In 1913, he graduated from the 1st Moscow Real School of Treasury.
Since 1913, he had been in the Russian Imperial Army. In 1915, he graduated from the Alexander Military Academy in Moscow. He was a member of the 25th Turkestan Infantry Regiment (Western Front), a World War I veteran, and a staff captain. In the summer of 1917, he returned to Moscow from the army. From the autumn of 1917, he studied at the Petrovsky Agricultural Academy (now the Timiryazev Agricultural Academy in Moscow).
From 1922 to 1924, he was the chief of staff of the 1st Turkestan Cavalry Brigade.
From August 1924, he was in reserve. He lived in Namangan, Bukhara, Samarkand and Tashkent. He worked as an accountant in the Karakol
Co-operative and an engineer-consultant on construction materials of the Industrial Council of Uzbekistan.
In July 1941, he was drafted into the army by the military commissariat of Kuibyshev district of Tashkent.
From August to October 1941, he was the Deputy Battalion Commander of the 9th Reserve Rifle Regiment (Central Asian Military District). In October 1941, he was appointed Chief of Staff of the 793rd Rifle Regiment, which was formed in Central Asia.
From March 1943, he was the participant of World War II as Chief of Staff of the 793rd Rifle Regiment (Voronezh Front).
From August 1943, he was chief of the headquarters operational group of the 213th Infantry Division (Stepnoy and 2nd Ukrainian Fronts).
He worked hard to cross the Dnieper. At night on September 27, 1943, as the head of the division's operational group, he crossed the Dnieper River and led the regiments' efforts to set up, expand, and maintain a platform on the right bank near the village of Dneprovokamenka (Dnipropetrovsk region of the USSR, Verkhedneprovskiy district).
By the Decree of the Presidium of the Supreme Soviet of the USSR of October 26, 1943, "For his skillful leadership of units and formations and for his courage and heroism" Major Nikolai Andreyevich Baranov was awarded the title of "The Hero of the Soviet Union".
He died on June 18, 1945. He was buried in Lichakovsky Cemetery in the city of Lvov (Ukrainian SSR).
GOLD STAR MEDAL OF THE HERO OF THE SOVIET UNION
THE ORDER OF "THE PATRIOTIC WAR OF THE I DEGREE"
THE ORDER OF "THE PATRIOTIC WAR OF THE II DEGREE"
THE MEDAL OF "FOR THE CAPTURE OF BERLIN"
THE MEDAL OF "FOR THE VICTORY OVER GERMANY"
THE MEDAL OF "FOR THE LIBERATION OF PRAGUE"