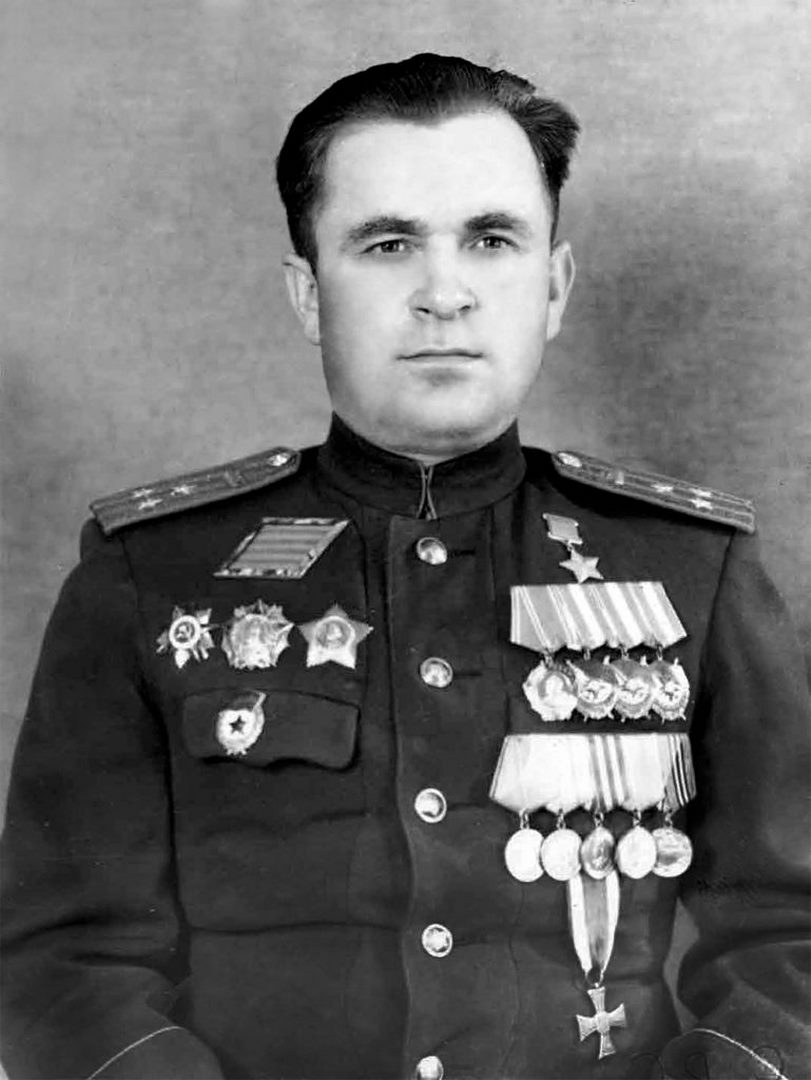 AFANASIY SEMENOVICH BARABASH
Lieutenant Colonel, Participant of World War II, The Hero of the Soviet Union (May 16, 1944)
Afanasy Semenovich Barabash was born on May 1, 1908, in the village of Protsovka of Romney city, (present-day Sumy Oblast, Ukraine) in a working-class family. He was Ukrainian. After losing his father early, he started working at a young age and continued to study at the same time. He graduated from the School of Industrial Practice.
In 1929, he was sent to study in Moscow as the best employee of one of the enterprises of Romensk. In 1932, he graduated from the Industrial College.
In 1932, he was drafted into the Red Army by the Kokand city military commissariat. In 1934 he graduated from the Armored Tank School. He served first as a platoon commander, then as a tank company commander, and then as the head of a regimental school. In 1939, A.S.Barabash was admitted to the Academy of Military Economics in Kharkov as a student of the Faculty of Engineering.
He was participant of World War II since June 22, 1941. He fought on the Western, Bryansk, Stalingrad, Southern, 4th Ukrainian, 3rd Baltic, and 1st Belorussian fronts. He had a concussion.
On April 9, 1944, under the command of Lieutenant Colonel A.S.Barabash of the 22nd Guards Special Tank Regiment attacked the position of the hill of Nazis from the Sivash platform and captured it along with shooter units. During the 3-day battle, he invades up to 80 km inside the enemy defense.
By the Decree of the Presidium of the Supreme Soviet of the USSR of May 16, 1944, "For skillful leadership of the tank regiment in the battles for Crimea, for courage and bravery" Lieutenant Colonel of Guards Barabash Afanasy Semyonovich was awarded the title of "The Hero of the Soviet Union".
After the war, he continued his service in the Armed Forces. In 1955, he graduated from the Higher Academic Courses at the Armored Tank Military Academy. Since 1957, Colonel A.F.Barabash had been in reserve.
Afanasiy lived in Kiev (Ukraine). He worked as a senior engineer at one of the research institutes in Kiev. He died on September 8, 1996.
He was buried in Berkovetsky Cemetery in Kiev.
GOLD STAR MEDAL OF THE HERO OF THE SOVIET UNION
THE ORDER OF "THE RED BANNER"
THE ORDER OF "SUVOROV" OF THE 3RD DEGREE
THE ORDER OF "ALEXANDR NEVSKIY"
THE ORDER OF "THE PATRIOTIC WAR OF THE I DEGREE"
"JANGOVAR XIZMATLARI UCHUN" MEDALI
MEDAL FOR THE 30TH ANNIVERSARY OF THE VICTORY IN THE PATRIOTIC WAR OF 1941-1495
THE MEDAL OF "FOR THE VICTORY OVER GERMANY"
MEDAL FOR THE 20TH ANNIVERSARY OF THE VICTORY IN THE PATRIOTIC WAR OF 1941-1495
THE MEDAL OF "FOR THE DEFENSE OF STALINGRAD"
MEDAL FOR THE 40TH ANNIVERSARY OF THE VICTORY IN THE PATRIOTIC WAR OF 1941-1495
MEDAL "VETERAN OF THE ARMED FORCES OF THE USSR"