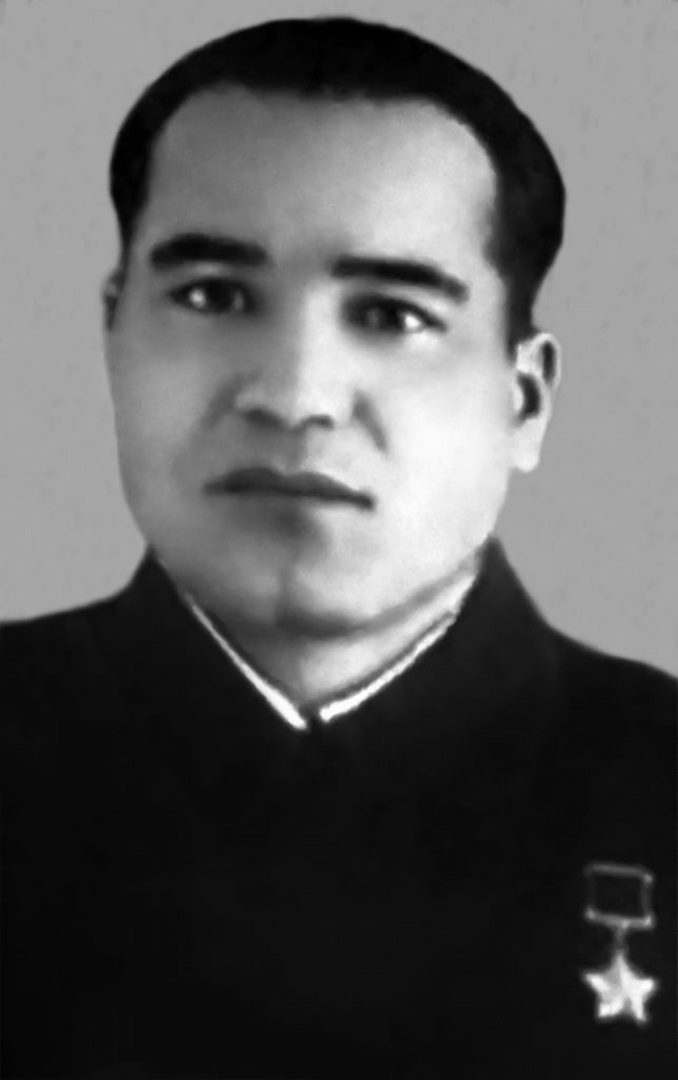 AZIMOV RUZI AZIMOVICH
private, a participant in World War II, Hero of the Soviet Union (07.22.1944)
He was born on September 22, 1925 in the village of Chukatepa, Suzak district, earlier than the Osh region, now the Jalal-Abad region of Kyrgyzstan, in a peasant family. Uzbek. Education is incomplete secondary. He worked as an accountant on a collective farm.
From September 1943 to May 1944 he studied at the Tashkent Infantry Red Banner Order of the Red Star School named after V.I. Lenin.
At the front since June 3, 1944. The machine gunner fought in the 1124th Infantry Regiment (334th Infantry Division, 60th Infantry Corps, 43rd Army, 1st Baltic Front), participated in the liberation of Belarus.
On June 23, 1944, near the village of Kozonogovo, Shumilinsky District, Vitebsk Region, the Byelorussian SSR, at the decisive moment of the battle, he raised the fighters to attack.. On June 25, 1944, he was one of the first crossed the Western Dvina in the area of the village of Grinevo, Shumilinsky District, Vitebsk Region of the Byelorussian SSR, burst into the enemy's trench and destroyed a large number of enemy soldiers and four machine-gun crews. In battle, he received a heavy shell shock from a closely torn enemy artillery shell.
After being wounded, he got to the hospital and did not return to the front due to the severity of the concussion.
By a decree of the Presidium of the Supreme Soviet of the USSR of July 22, 1944, "For the exemplary performance of combat missions of command on the front of the fight against German-enemy invaders and the courage and heroism shown at the same time", private Azimov Ruzi Azimovich was awarded the title of Hero of the Soviet Union.
After returning, he worked on a collective farm. In 1951 he graduated from the republican party school of the Kyrgyz SSR, and in 1965 – the Jalal-Abad Teacher Training School. Until 1974, he was at the economic and party work, was chairman of the voluntary fire society of the city of Jalal-Abad.
He lived in Jalal-Abad with his wife Rokiya and his son Igor Ruzievich Azimov.
He died in 2006.
GOLD STAR MEDAL OF THE HERO OF THE SOVIET UNION