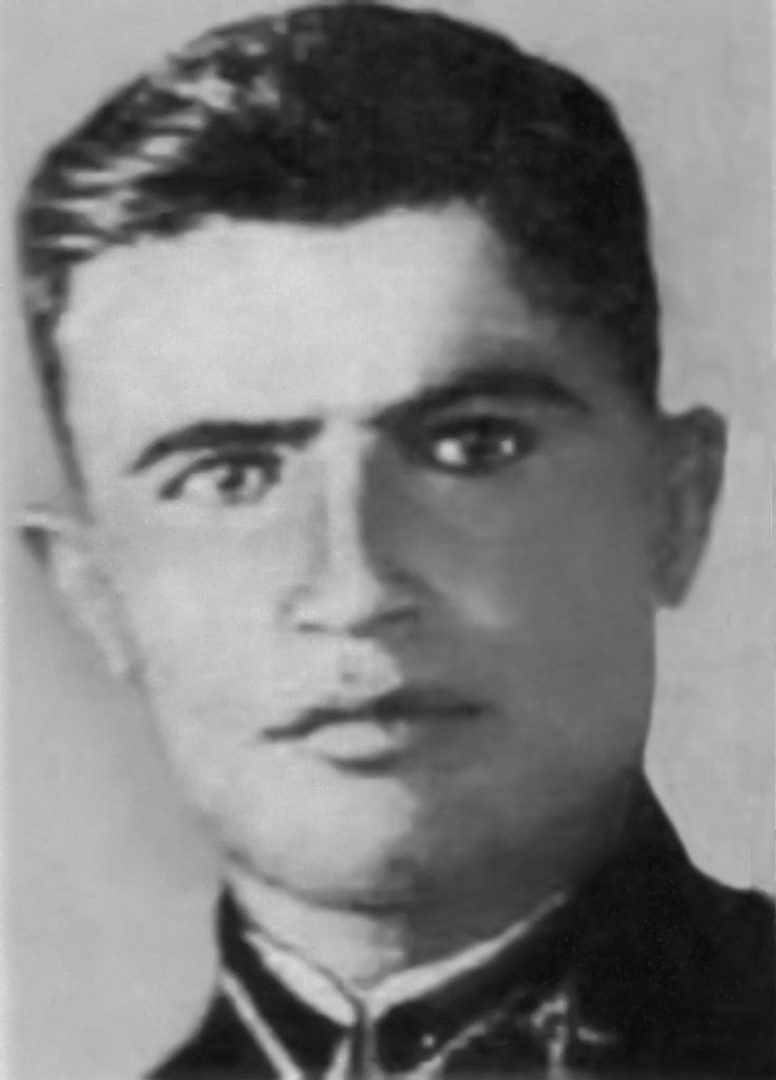 ARZUMANOV GURGEN MERZAYEVICH
Lieutenant of Guard, Participant of World War II, The Hero of the Soviet Union (January 15, 1944)
He was born on February 25, 1914, in the village of Khndzoresk (now Marz Syunik) in a family of peasant. He with his family moved to the Turkmen SSR, where he finished his secondary education. He worked as a store manager in Kushka of Mari region of the Turkmen SSR.
In 1936 he was drafted into the Red Army by the Samarkand district military commissariat.
In 1939 he graduated from the Junior Lieutenants course at the Military Equestrian Academy.
In June 1941 he was appointed squadron commander in the 54th Guards Cavalry Regiment during World War II. He fought on the Western, Stalingrad, Southwestern and Central fronts. The young lieutenant's squadron showed his courage repeatedly, proving that he was the best in the battles for Ukraine.
On September 21, 1943, near the village of Veliky Dirchin in the Chernigov region, a cavalry detachment of the 54th Guards Cavalry Regiment crossed the Snov River without stopping. On the way of Dnieper they began to go to the village of Kulikovo, the enemy's stronghold. Soon, the enemy mortar fire stopped the cavalry. The commander of the guard squadron Lieutenant Arzumanov sent one of the platoon to close the infantry crossing and took refuge in the remaining platoon. From a observation point not far from the checkpoint, a German company saw Arzumanov rushing to the heights to attack the platoon. Assessing the condition of the guards, the lieutenant decided to strike from the wing, and as a result of a quick attack the Germans retreated.
On September 22, 1943, in the battle for the village of Kulikovka of Chernigov region, the squadron commander of the 54th Guards Cavalry Regiment, Lieutenant G.M.Arzumanov skillfully led his unit's combat operations. Resisting the enemy's counterattack, he was severely wounded, but continued to give orders. The squadron performed a combat mission. In this battle, a brave young guard lieutenant died bravely.
He was buried in Makishin village, Gorodnyansky district, Chernigov region.
By the Decree of the Presidium of the Supreme Soviet of the USSR of January 15, 1944, "For exemplary performance of combat missions, command and courage in the fight against Nazi invaders on the front", Lieutenant Gurgen Merzaevich Arzumanov was awarded the title of "The Hero of the Soviet Union" (after his death).
GOLD STAR MEDAL OF THE HERO OF THE SOVIET UNION
THE ORDER OF "THE PATRIOTIC WAR OF THE I DEGREE"