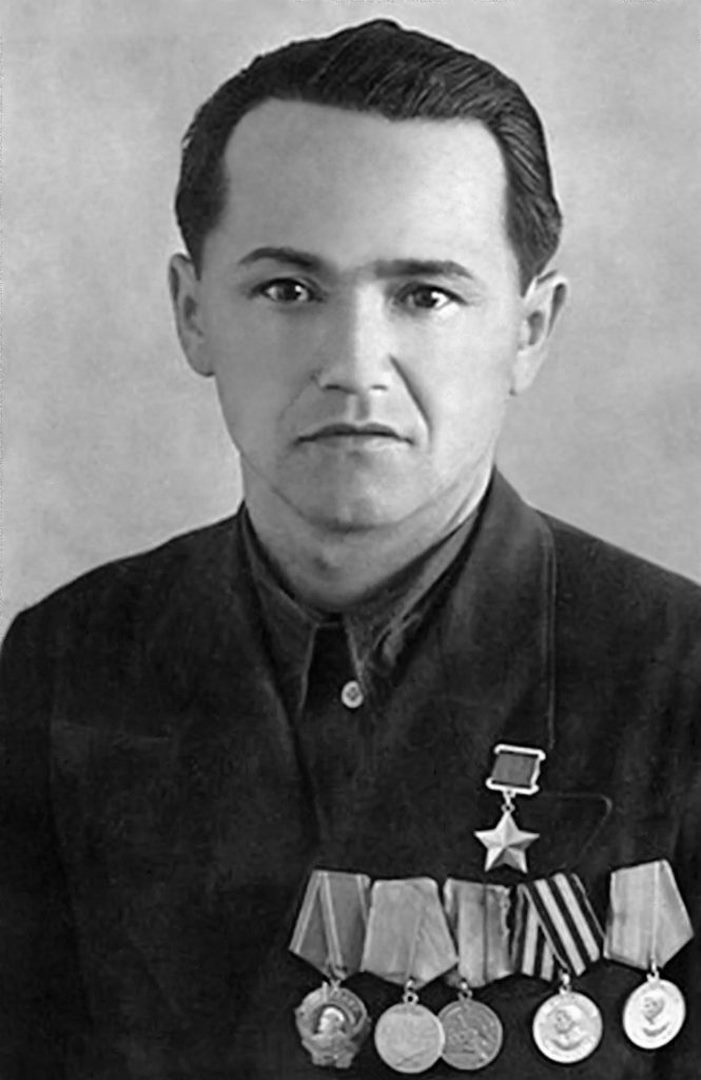 ABDURAMANOV UZEIR ABDURAMANOVICH
Sergeant, participant in World War II, Hero of the Soviet Union (January 15, 1944)
He was born on March 12 (25) 1916 in the village of Kashik-Degirmen (now the village of Novoandreyevka, Simferopol district, Republic of Crimea), Simferopol district, Tavriya province, but his birthplace in other sources the Present Sukorechye) is recorded as a village. Nationality – Tatar. In 1933, after graduating from the factory school, he worked as a cook, and then as a transport deputy of the Sinferopol artel.
In 1939 he was drafted into the Red Army. Participated in World War II from 1941. He took part in the Battle of Stalingrad.
In September 1943, he managed to cross the Sogd River with his unit during the fighting in the village of Noviye Tereshkovichi (Belarus). When the mission is completed successfully, only 3 of the 17 soldiers in the squadron will survive. Prior to that, he showed heroism and dedication in leading the crossing of the Desna River.
By the Decree of the Presidium of the Supreme Soviet of the USSR of January 15, 1944, sergeant U.A.Abduramanov was awarded the title of Hero of the Soviet Union "For exemplary performance of combat duties, courage and heroism in the fight against Nazi invaders on the front."
On May 18, 1944, Tatars were deported from Crimea. After the war, he was released from the reserve and sent to Uzbekistan with his family.
In 1948, to the Hero was invited to return to his homeland. He is allowed to take his close relatives with him.
In the late 1950s, Crimea joined the Tatar movement.
He moved to Navoi in 1962 and worked at a uranium plant.
He died on January 19, 1991.
GOLD STAR MEDAL OF THE HERO OF THE SOVIET UNION
THE ORDER OF "THE PATRIOTIC WAR OF THE I DEGREE"
MEDAL "ON THE OCCASION OF THE 100TH ANNIVERSARY OF VLADIMIR ILICH LENIN"
THE MEDAL OF "FOR COMBAT MERIT"
THE MEDAL OF "FOR THE VICTORY OVER GERMANY"
"STALINGRAD MUDOFAASI UCHUN" MEDALI​
"1941-1945 YILLARDAGI ULUG' VATAN URUSHINING G'ALABASINING 20 YILLIGI" MEDALI
"1941-1945 YILLARDAGI ULUG' VATAN URUSHINING G'ALABASINING 30 YILLIGI" MEDALI
"1941-1945 YILLARDAGI ULUG' VATAN URUSHINING G'ALABASINING 40 YILLIGI" YUBILEY MEDALI
«1941-1945 YILLARDAGI ULUG' VATAN URUSHIDAGI FIDOI MEHNATI UCHUN» MEDALI
«SSSR QUROLLI KUCHLARINING 50 YILIGI» YUBILEY MEDALI
«SSSR QUROLLI KUCHLARINING 60 YILIGI» YUBILEY MEDALI
«SSSR QUROLLI KUCHLARINING 70 YILIGI» YUBILEY MEDALI