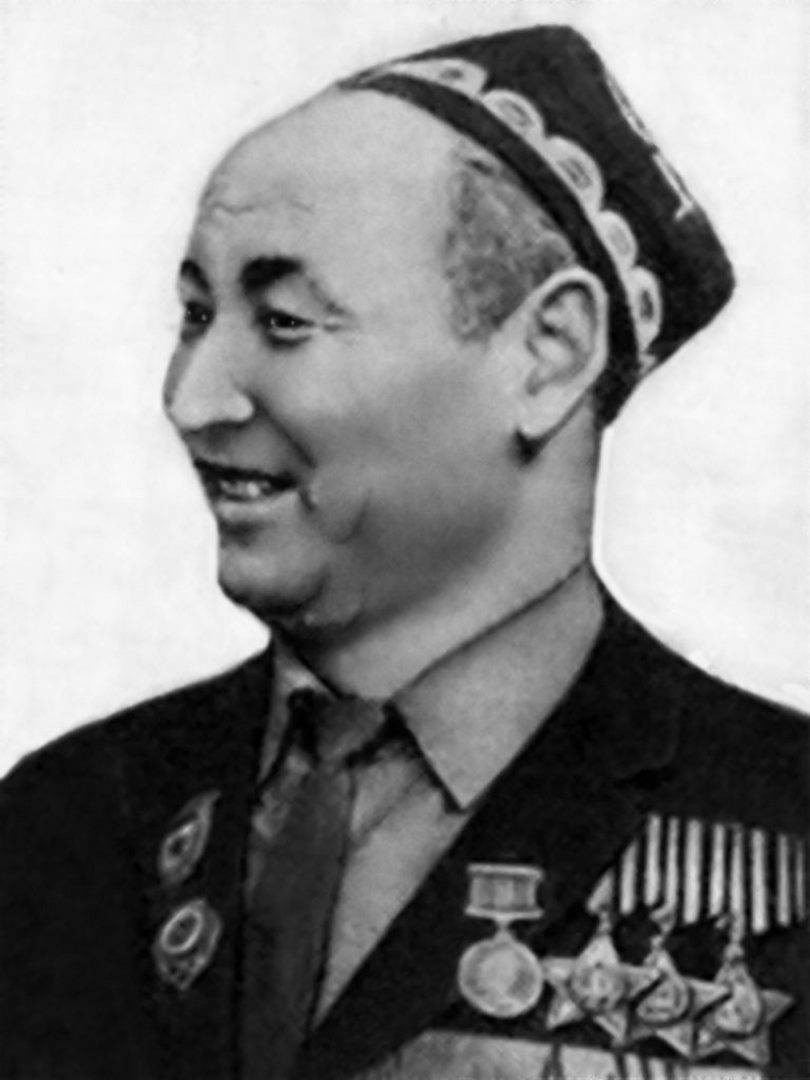 REJAPOV TAJIBAY
a private, a participant in World War II,, Full cavalier of the Order of Glory (15.05.1949)
He was born on March 18, 1924 in the village of Khojam-Shukur of the Kurghantepa district of Andijan region in a peasant family. Kyrgyz. He graduated from 9 classes. He worked as a teacher in elementary school.
In the Red Army since November 1942. He graduated from machine gunner courses and in January 1943 he was sent to the front. He fought on the Stalingrad, 3rd Ukrainian and 1st Belorussian fronts. In one of the battles he was seriously wounded. After being cured in the hospital, he was enrolled in the 13th line outpost of the 127th border regiment of the NKVD troops for protecting the rear of the 3rd Ukrainian Front, where he was trained at a sniper school.
A sniper of the 13th linear outpost for the period from January 7 to 13, 1944, while on a combat training with a group of snipers in the area of the 1118th Infantry Regiment of the 333rd Infantry Division, exterminated 16 enemy soldiers and officers.
January 25, 1944 for the courage shown in battles with the enemy, the Red Army Regzhapov was awarded the Order of Glory of the 3rd degree.
Acting as a part of a team of snipers of the same border regiment in the strip of the 17th Guards Cavalry Division of the 1st Belorussian Front, Regzhapov on the Magnushevsky bridgehead during the period from September to October 1944 destroyed 24 Nazis, eliminated several snipers and officers.
On January 27, 1945, the Red Army Regjapov was awarded the Order of Glory of the 2nd degree.
During the offensive in the winter of 1945 from the Vistula River to the Oder River, he took part in the liquidation of small enemy groups in the rear of the front, catching fascist saboteurs and scouts. During this time, he destroyed up to 10 Nazis, detained 6 saboteurs and captured about 50 German soldiers. During the battles for Berlin, he destroyed 22 enemy soldiers and officers, and only during the war – 102 Nazis.
By a decree of the Presidium of the Supreme Soviet of the USSR of May 15, 1946, "For the courage, bravery and heroism shown in the struggle against the Nazi invaders", Red Army soldier Regzhapov Tajibay was awarded the Order of Glory of the 1st degree.
In 1949, demobilized. He worked in the police of the city of Kukenchak. In a fight with criminals received several stab knife wounds.
After retiring, he lived in Andijan.
ORDER OF GLORY 1,2,3 DEGREES